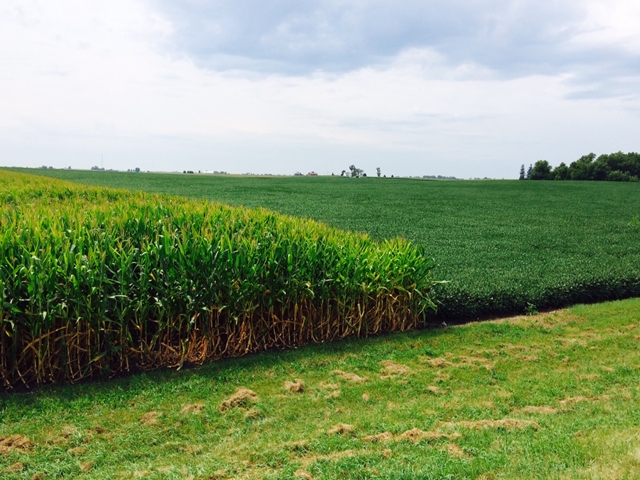 University of Illinois agriculture economists parse the USDA numbers on corn and soybeans.
If anyone can read between the lines of the Jan. 12 USDA reports, it would be University of Illinois agriculture economists Darrel Good and John Newton, and they did just that on Tuesday during an online presentation.
They started with the big numbers, of course. "We now have two back-to-back big years of corn production," said Newton, a clinical assistant professor in the Department of Agriculture and Consumer Economics.
But they quickly moved on to the details, highlighting a 96 million bushel reduction in the 2013 corn crop production and the adjustment to the 2014 crop, making it "smaller than anticipated" at 14.2 billion bushels, according to Newton.
Here's what the duo noticed in Monday's slew of data:
An uncharacteristically large downward revision of this fall's corn production and corn yield. "If we look back historically over the last 10 years or so of USDA November to January corn production estimates, we see that the 2014 estimate is the second largest downward revision over the past 10 years," said Newton. The change for yield was even greater, even though 171 bu. per acre remains a record.  "The USDA came down 2.4 bushels" between November and January, which represents the largest downward revision to corn yield in the past 10 years, according to Newton.
A larger than normal gap between USDA's National Agricultural Statistics Service (NASS) and the Farm Service Agency (FSA) acreage. "One of the ongoing storylines this fall has been comparing NASS and FSA planted acreage of corn," said Newton. Good, who is a professor emeritus, added that the two agencies have typically had very similar estimates, plus or minus 3 million acres. Not this year. The difference right now stands at 4.3 million acres, pending Thursday's FSA acreage report, when the two professors expect the two figures to begin to meet. "If it does not narrow, there is going to be some lingering questions about the accuracy of the NASS estimate," Good said.
A significant amount of corn. The grain stocks supply stands at 11.2 billion bushels on Dec. 1, which represents "a record inventory for this time of year," Good said. "It's not surprising that this inventory is large given the size of the crop we have, and given the volume of corn we are using each year, a larger inventory is not necessarily bearish."  He thinks corn prices will hover around $3.65 for the remainder of the marketing year. "We may end the year slightly higher than $3.65, probably in the upper half of USDA's price range, with some possibilities of cash corn moving up to the $4 level."
A growing surplus in soybeans. This year's 3.97 billion bushels "represents an all-time record high," according to Newton, who highlighted the ongoing increase in yields. While consumption has been strong, there's still a lot of soybeans in the world, which will impact prices. "Given the magnitude of year-ending stocks and now what appears to be a much larger South American crop, there's some question whether we can really hold soybean prices at $10 moving forward," Good said, adding: "It's hard to get around the fact the fact that we have bit of a surplus in soybeans, a big South American crop, and … we could see some increase in soybean acreage here in the U.S. in 2015, particularly given the almost 2 million acre cut in wheat seedings that was reported yesterday."
What did you see as the good, bad, and ugly in the Jan.  12 USDA reports? Let us know on the AgWeb discussion boards.