Drone potential in next 10 years has agriculture buzzing
Eventually, your drone won't need you. It's nothing personal—technology will simply have evolved to the point where an operator on the ground is no longer required, argues Glen Hiemstra, CEO, Futurist.com. 

Instead, unmanned aerial systems (UAS) will capture data using Internet-delivered commands. "The primary use will certainly be more frequent monitoring of crop and land conditions, enabling greater precision agriculture with regard to water and artificial inputs," Hiemstra explains. "This will become more important as climate and regulations evolve. Beyond that, there may be other uses—for example, in simple 
planning of crop rotations and field allocations, and beyond that in possible public relations via social media tours of farms." 

Today, producers have more questions than answers—about the legality of commercial drone flights, permitting requirements and prospective benefits compared to startup costs. Yet experts say answers will gradually favor greater drone usage as public perception warms and the technology makes in-roads in multiple industries.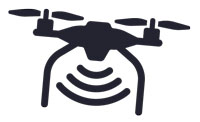 By 2025, agricultural drones will perform specialized agronomic tasks, cut labor costs and draw on the expertise of military contractors and other tech experts to advance in-field flight. Regulations are predicted to ease.
Application Aims. One of the most noticeable differences about drones in the next decade will be their ability to precisely apply crop chemicals from the air, a practice that has been used with success by producers in Japan.

"They've been using that type of capability for 20 years," notes Kelli Polatty, an associate at Memphis, Tenn.-based Entira. The agricultural business consulting firm first began researching unmanned aircraft after several of its agribusiness clients asked for more information about possible applications. This fall, Entira launched two multi-client studies to assess how farmers are using drones as well as possible future uses. 

Farming is among the darlings of commercial drone interest, but it isn't the only industry catching the attention of equipment manufacturers and technology companies. Other industries actively pursuing drones include retail and e-commerce; logistics and shipping; and disaster recovery, according to BI Intelligence. In a report earlier this year, the organization estimated that over the next 10 years, $98 billion will be spent worldwide on these machines—12% of it for commercial use. 

For American producers, the challenge will be waiting for companies to upgrade drones so they can fly longer in the field with less downtime for charging. Aerial applications in Japan are easier because crop acreage is much smaller than in the U.S.

As those changes are introduced, post-planting chemical applications in particular will be adopted for corn, soybeans and other crops, predicts Tim Kerstein, director of solutions development, Entira. 

Pre-plant applications also are feasible after regulators identify the conditions under which those flights are permitted to occur, resulting in an "integrated precision agriculture approach," he says. 

Labor savings will also increase as farmers deploy aircraft to scout crops from on high instead of sending workers into foliage.  
Cost Savings. As more drones enter the marketplace in the next decade, costs will likely go down. One factor contributing to the growing number of drones will be an increase in the volume of tech partnerships and manufacturers creating them. Smaller technology companies will continue to build drones, but it's likely major equipment manufacturers will take interest, as well. 

"If they don't actually manufacture, they'll be heavily involved in the distribution, utilizing that retail channel," Kerstein explains. Before the arrival of today's bear market, favorable crop prices allowed ag companies of all sizes to make investments and plan for product lines, such as drones. 

Because drones catalog enormous amounts of data, manufacturers also will look for tech firms that can help them sort through that information—and assist producers in doing the same thing. "You've got this mountain of data, and how do you get through it, make (decisions) quickly?" Polatty explains. "That's where a lot of questions are coming into play. 
Rules Relax. Before that happens, officials from the federal level on down must determine what constitutes appropriate use of drones. To Kerstein, a rising number of exemptions indicates FAA is testing the waters to see what works and doesn't work. Exemptions will continue until regulations are deemed a good solution. Dozens of states already have rules on the books about drones—most of them related to privacy—and Polatty expects all 50 will adopt rules by 2025.

Pilotless aircraft also face a publicity dilemma, as evidenced by the word "drone" itself, Kerstein explains.

"You think drone strikes in Afghanistan," he says. "But...I think you'll hopefully see that comfort level get to a higher rate, not only in the farming community, but in the general community." 

The military history of drones could actually play in farmers' favor, experts say. Tech companies once working for the Department of Defense and others are "starting from ground zero and trying to understand the needs and wants of the agriculture industry, Kerstein says. 

It's also possible technology such as high-power satellites capable of capturing close-up images could prove more feasible than drones. For one thing, they don't tie up airspace.

"It's kind of a race to see who gets there first," Kerstein says. 
---
What It Means To Me
In the next decade, more farms will adopt drones to perform a variety of tasks, reducing inputs and cutting costs. Meanwhile, the regulatory and manufacturing landscape will change in key ways by 2025:
Assuming regulatory approval, one of the leading uses of drones will be precision application of chemicals for corn, soybeans and other crops.
All 50 states are likely to adopt guidelines for drones, paving the way for future commercial exemptions and the possibility of regulations to free up airspace.
Major manufacturers as well as small to mid-size businesses will introduce new drones and form partnerships to streamline product distribution in the years ahead.
Tech experts who once worked with the Department of Defense will focus on learning the needs of producers and identifying new uses for drones on farms.
It's possible drones might be overshadowed by superior technology for capturing landscape data up close, such as high-powered satellites.