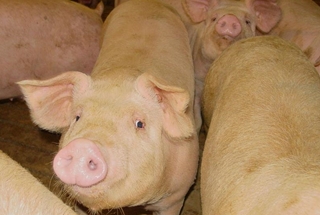 There are not that many pigs in his home state. But there are millions in the early presidential voting state of Iowa. And that's making for a tough decision for Chris Christie, who is both New Jersey's governor and a potential presidential candidate.
Christie has until early December to decide whether to sign a bill that would ban pig farmers in the state from using devices called gestation crates, or metal cages, that are so small that pregnant pigs can't turn around.
The bill has the overwhelming support of Republican and Democratic state lawmakers in New Jersey, where it would have little-to-no impact — the state's roughly 300 pig farms don't regularly use the crates.
But Christie's decision is being watched closely in Iowa, the nation's largest pork producer and home of 2016's first presidential nominating contest.
In particular, Christie has received pressure from Iowa Gov. Terry Branstad, whose relationship he has carefully cultivated and who could prove a crucial ally in the early-voting state if Christie decides to run. Branstad, a Republican who won easy re-election last Tuesday, is ardently opposed to the restrictions and told The Associated Press he called Christie to urge him to reject the bill when an earlier version landed on his desk last year.
"I called him to tell him how bad I thought it would be and how the people that are involved in pork production, that really understand this, feel this would be very bad," said Branstad, who argued the crates provide protection to baby pigs that could be crushed to death by older pigs that fall over.
He said the two discussed the new legislation again when Christie attended Branstad's pre-election birthday bash fundraiser last month.
"I just think, unfortunately New Jersey's a state that doesn't raise a lot of hogs. There's a lot of misinformation," Branstad said.
Advocates of the change, however, argue the crates are cruel to pregnant pigs that aren't at risk of crushing piglets yet to be born. Matthew Dominguez, a public policy manager at the Humane Society, said breeding females can spend up to four years in the crates on some farms, which is "not only unnecessary, but incredibly detrimental" to their mental and physical health.
"There's no reason other than potentially Iowa why he would veto this bill," he said.
While New Jersey's pig population pales in comparison to states like Iowa — the United States Department of Agriculture estimates there were 9,000 pigs in New Jersey at the end of 2013, including about 700 breeding sows — he said the bill was aimed at ensuring the practice did not spread.
Christie vetoed an earlier version of the bill last year, saying the decision should be left to his Department of Agriculture.
"The proper balancing of the humane treatment of gestating pigs with the interests of farmers whose livelihood depends on their ability to properly manage their livestock best rests with the state's farming experts — the State Board and the Department," he wrote in his veto message.
The new bill puts more control in the department's hands.
A spokesman for the governor's office declined to comment except to say the bill remains under review.
This time, the Humane Society has also organized a more visible campaign, with letters from celebrities like Danny DeVito, Bob Barker and Bill Maher and displays across the state. They also commissioned a poll trying to show that Iowa GOP caucus-goers would view Christie more favorably — not less — if he signed the bill into law, which they shared with his staff.
"Anticipating that that might be a concern of his, we wanted to provide assurance that this is not just the popular thing to do in New Jersey, but also in Iowa," said Wayne Pacelle, the president pf the Humane Society of the United States.
State Sen. Raymond Lesniak, the bill's primary sponsor and a frequent Christie critic, said he was hopeful that playing to Christie's potential political ambitions would lead to a more positive outcome.
"I'm cautiously optimistic that we're going to have a different result this time around," he said.