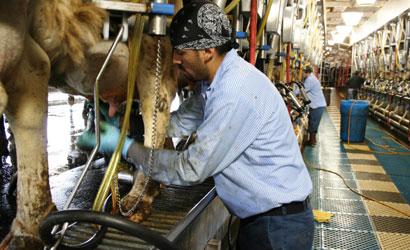 Never assume it can't happen to you
Just because your farm is located well off the beaten path, far from the madding crowd, don't assume you can't be the victim of an undercover animal rights activist whose sole purpose is to create an animal abuse video.
The costs can be high. Lost markets, damaged relations within the local community and attorney's fees often and easily surpass six figures. Consider these three examples of dairy operations infiltrated by animal rights videographers:
Jon Rulfs dairies some 30 miles south of the Canadian/Quebec border in the far northwest corner of New York. Three years ago, a People for Ethical Treatment of Animals (PETA) undercover videographer spent several months on Rulfs' Adirondak Farms, taping cattle handling and treatment. "The informant was on our farm for three months to get three minutes of video," he says.
Once he did, PETA notified Rulfs' milk buyer, Cabot Cheese, that it was about to go public with the video. PETA also e-mailed some of Rulfs' Hispanic employees, threatening them with exposure to both criminal and legal residency status queries.
And it sued for access to Rulfs' 1,400 pages of animal health records filed with the New York State Cattle Health Assurance Program. (In the end, PETA did not gain access to those records, and New York has since passed legislation protecting the privacy of those records.)
After an investigation by law enforcement, no charges were filed against Rulfs, any of his family or any of his employees.
---
Gary Conklin is a dairy cattle broker from Columbus, Ohio. He buys close-up heifers, calves them on his farm, and then sells them as freshened heifers to farmers. His operation was the subject of a Mercy for Animals abuse video in May 2010.
Conklin's image was photo-shopped into the video, even though he was not present at the farm when the alleged abuse by his employees occurred.
The incident cost him his milk market, community trust and even physical threats to him, his family and his business that required police protection for a time. One of Conklin's employees was convicted of animal abuse and was sentenced to prison.
---
Mike Holland, a veterinarian and former consultant for Dry Creek Farms, Hansen, Ida. Dry Creek Farms, which was sold last year, was owned by Luis Bettencourt at the time a Mercy for Animals video was taken in 2012. It showed cows being beaten with plastic canes in the holding pen and alleys, and a downed cow being dragged by its neck out of the milking parlor.
The release of the video created an uproar in Idaho, again with threats of dairy product boycotts and violence against Dry Creek Farms' employees and owners.  
Bonus Content
More on animal welfare audits and the FARM Program
Extended comments are 

highlight
All three of the men were sickened by the abuse depicted on the videos.  Even worse, some of the video content was staged, coached and perpetrated by the videographers themselves.
The videos and the aftermath have taught them hard lessons about public reaction, animal care and employee management.
They say having employee training and protocols on animal handling is paramount. Written protocols are absolutely necessary, says Holland, because they show you have thought about the process. Now, more than ever, they are almost a legal necessity. If protocols are not written down, they did not happen in the eyes of regulators and attorneys, he says.
Training new employees in those protocols, who often have no experience handling cattle, is critical, says Conklin. "I personally work with the employees, and I feel they have adopted the culture of animal care we want them to have," he says.
Conklin has legally binding contracts with employees that specifically states no animal abuse will be tolerated. "They have to know what is at stake."
"We have a zero tolerance policy for any abuse, resulting in immediate dismissal," adds Holland. Dry Creek Dairy also installed video cameras to cover the entire facility, not just the milking parlor. Dairy managers pay particular attention to the parlor's holding area and cow alleys.
After the incident, Dry Creek Dairy also required that any hiring had to go through Bettencourt's human resources department. Thorough background checks are conducted on each applicant. (Note: That's not always easy. The informant on Rulfs' dairy had eight different aliases.)
Having third party animal welfare audits of your animal care and handling practices are important to identify any holes in management and to assure the public, says Conklin. Involve employees so they know what is expected.
Though national FARM audits are now required once every three years, Conklin believes they should be done annually. "I think we're to that point not only for our own, individual protection but for the protection of the industry as a whole," he says.
While it might seem counter-intuitive, the farms have become more open to neighbors and tours. The reason is to show the dairies are operating responsibly and have nothing to hide.
"One reason our doors were closed before is that we have a Hispanic labor force, and we wanted to protect them from scrutiny," says Rulfs.  Rulfs' dairy, within a half hour of the Canadian border, is in an area under constant border surveillance and protection efforts.
"After the video incident, immigration and legal identity concerns became secondary," he says. "We realized we needed to tell our story to neighbors and the local community."
Holland also says the Bettencourt dairies are open bus tours and school children. Cell phones with cameras are a continuing concern.
"The tours have gone well, and we have had no issues. But I can see where camera phones could become a problem," says Holland.
In the end, employee training and vigilance are keys. Don't assume that employees will always do the right thing. "If someone offers them several hundred dollar bills to participate in a video, would they turn that money down?" asks Holland.