Falling currency values give European Union, Russia and Ukraine edge over U.S. wheat 
From a grain marketer's standpoint, there is a lot of political and economic disorder in the European Union, Russia and Ukraine. Unfortunately for U.S. wheat farmers that probably won't translate into greater export 
potential this year. 

"We're really not in a good spot to take advantage of this logistically," said Cordon Sroka, a wheat analyst who presented Allendale's wheat outlook during the McHenry, Ill.-based firm's annual Ag Leaders Conference.

The strength of the U.S. dollar doesn't help either. "As the Russian ruble has dropped in price, exporters are looking to Russia to get inexpensive wheat," Sroka said. "We are seeing the same with Ukraine."

Such effects will soon spread to the Eurozone as well, given the European Central Bank's decision to stimulate the European economy. "Quantitative easing is going to have a major effect on their currency," Sroka said. "With a less expensive euro, European wheat is going to look a lot more lucrative on the world market."

That's too bad, given exports represent 45% of the overall demand for U.S. wheat.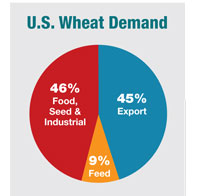 Nearly half of U.S. wheat demand hinges on the ability to export to foreign buyers.
In terms of world wheat supply and demand, Sroka did highlight two wild cards:
India is the second largest wheat producer in the world. "The reason they don't show up as a major exporter is because of their population," Sroka explained. "They are also the largest consumer of wheat." The country currently has a stockpile of wheat that is three times larger than what's required by its government. Should India decide to release some of that wheat, it could affect prices and supply.
China is the largest single-country producer of wheat in the world and a major consumer of the grain. "You always have to keep track of what is going on in China," Sroka said.
Highlighting the surprise in the January USDA reports, he noted U.S. farmers planted 2 million fewer acres of wheat than expected. "That was a little bit of a shock to the market," he said. "We just didn't plant as much as the trade was anticipating."

Will that mean there will be less U.S. wheat available to export later this year? Sroka is doubtful, given that increased yields from better conditions will likely make up some of the lost winter wheat acres.

Spring planting decisions might make up for lost ground as well. "With lower corn prices on the table right now and a little higher spring wheat price, we have to anticipate that with cheaper inputs, wheat might look like the more lucrative crop right now," Sroka said.