Double-digit drop poses buying opportunities
One of the more pronounced used equipment trends of 2014 has been the falling value of planters. 

Check out the accompanying data table below, and you'll see that I'm not talking about 3%, 4% or 5% drops. Instead, I've seen 11%, 14%, 23% and 24% dips in value. The numbers represent actual auction prices throughout the U.S. and Canada, and they are part of a larger database I have been compiling for the past 25 years. 

For an illustration of this trend, take a closer look at John Deere 1770 24-row planters. In 2013, the average auction price was $72,555. In 2014, the average auction price went down 23.5% to $55,536. 

Is the falling price of corn the only reason for the precipitous drop in value? No. Another catalyst for the change in values is the large volume of good-quality used 24-row planters piling up on dealer lots across the grain belt. Excess supply of 24-row used planters has been an issue since late 2009, but it became more severe in 2014. Auction prices wobbled lower beginning in August. 

Consider another example. At a Sept. 18, 2014, farm auction in northeast South Dakota, a 2011 model John Deere DB90 36-row 30" planter in good condition sold for $115,000. Compare that figure to the sales prices seen on similar models during December 2013:
 $167,000: 2012 model sold Dec. 19, 2013, at a farm auction in southwest Minnesota
$155,000: 2010 model sold Dec. 5, 2013, at a farm auction in southeast Minnesota
$150,000: 2011 model sold Dec. 9, 2013, at a dealer auction in east-central South Dakota.
The bottom line is that the 2011 model purchased in mid-September this year went for 23.3% less than a comparable 2011 model sold about one year earlier at a dealer auction that took place in the same region of eastern South Dakota. 
Purchasing Power. Falling used values present opportunity if you have considered upgrading your planter. A price between 15% and 25% lower than expected, particularly on a large machine, would make any producer stop and ponder for a bit. Now could be the time to jump in and buy. 

Also factor into the equation the likelihood of a large uptick in machinery auctions toward the end of 2014 and into the first quarter of 2015. Beginning in August 2014, I saw a jump in the number of farm retirement auctions. It looks like the pace of these auctions will continue to quicken. Given excess late-model large used planters on dealer lots all over, we will no doubt see many large dealer auctions work to pare down their inventory.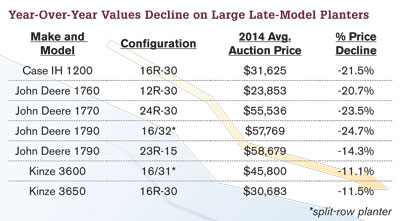 Average auction sale prices on large late-model used planters have fallen by double digits in 2014 compared to sales values seen in 2013.