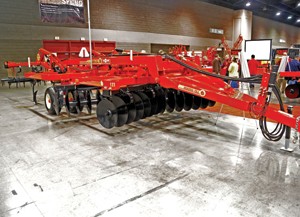 The Quadra-Till from McFarlane is a one-pass primary tillage tool that fits well into a vertical tillage system. It is available in four sizes—7-shank, 9-shank, 11-shank and 13-shank—and ranges from 8'9" to 19'1" working width.

The disk frame is constructed of 3"×6" tubing, the chisel frame is 4"×6" and the main frame is 6"×8" tubing. The front disk gangs adjust to 12°, 14° and 16° operating angles. The blades are set on 10" spacing and provide a 5" effective cut for residue sizing. A coil spring system protects the disk frame from obstructions in the field and prevents premature wear while operating in extremely hard ground conditions. The heavy-duty clamp-style shank mounts on 15" spacing to provide even shatter across the working width of the machine. The 2"×1¼" edge-bent shanks have 37" of underframe clearance.

For more information, visit McFarlane Mfg. Co., 1259 S. Water St., Sauk City, WI 53583; (800) 627-8569; www.flexharrow.com.