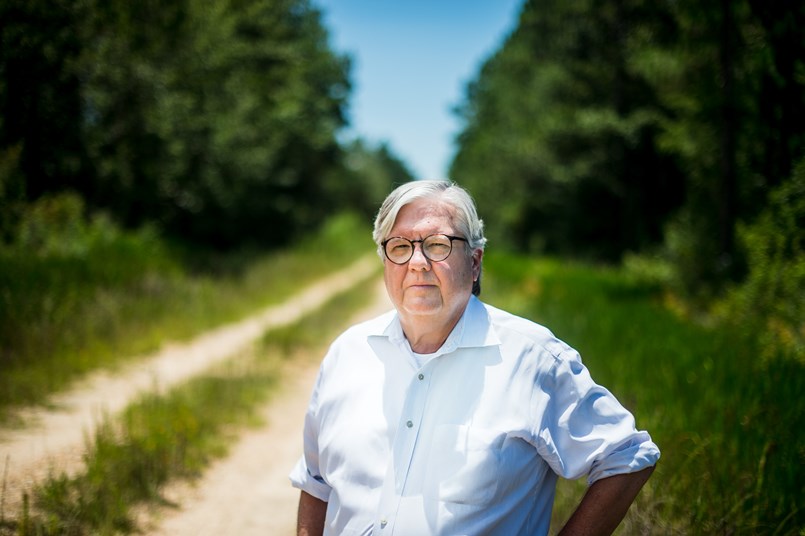 Edward Poitevent is at the mercy of an invisible frog. He has lost private property rights on 1,500 acres to a frog species that will never live on his land and doesn't live in his state. The Endangered Species Act (ESA) is shackled to a litany of odd cases, but Poitevent's battle with a $34-million frog may rank as the most bizarre of the lot.
Can the federal government push aside private property rights in the name of critical habitat for a species that does not live on a given piece of land, cannot live on the land with the present environmental conditions, and does not live in the bounds of the state in question? Yes; just ask Poitevent. The feds don't have to pay a dime for the acreage, yet Poitevent can never freely develop or sell his own land.
In September 2011, the U.S. Fish and Wildlife Service (FWS) published a proposed critical habitat rule (76 Fed. Reg. 59774) for the dusky gopher frog with a bull's-eye on 1,500 acres of Poitevent's tree farm land in St. Tammany Parish, located toward the tip of the Louisiana boot. Kicking hard against the designation and a massive $34-million loss, Poitevent hopes the U.S. Supreme Court will hear his case sometime in the fall of 2017.
At present, the feds have designated Poitevent's property as critical habitat for the non-existent frog and in effect have shut down commercial opportunities for the land. Therein lies the glaring irony: The feds can declare his ground as an ideal frog refuge and stunt the land's commercial viability, but they cannot force Poitevent to reintroduce the dusky gopher frog on the 1,500 acres in question.
For many critics, it's as if the government is forcing Poitevent to pay for a figurative multimillion dollar frog resort on his own land, knowing full well the rooms will be forever empty. So far the law has come down firmly on the side of the government. The FWS has won each court battle, but it may be whistling past the frog graveyard because the government's last bastion of frog protection, Poitevent's 1,500 acres, is presently home to plenty of red tape, but not a single dusky gopher frog.
The Last 100
On the afternoon of May 21, 2011, Poitevent got a phone call from Jackson, Miss.-based FWS personnel Linda LaClaire and Carey Norquist. Receiver in hand, Poitevent listened in shock as the agents declared his timberland a potential critical habitat choice for the dusky gopher frog. (At the time, FWS still referred to the amphibian as the Mississippi gopher frog. The name was changed to "dusky" in 2012, and Poitevent believes the switch was a convenient means to allow for association beyond Mississippi borders.)
Poitevent had never heard of the particular species, but felt secure supported by what he believed was sound reasoning: The dusky gopher frog didn't exist on his land, period. No matter. More than 80 miles to the east in Mississippi, the last 100 dusky gopher frogs on the planet were still hiding on the edge of extinction, the remaining remnant of a population that once spread across multiple southern states. An 80-mile stretch of woods, farmland, numerous roads, heavily populated towns, a huge swamp and three interstate highways composed the frog bridge built by the FWS assertion: Poitevent's private land was the promised land for the dusky gopher frog. (Note: FWS officials were contacted, but declined comment on all questions related to dusky gopher frog litigation.)
"I didn't know what they were talking about," Poitevent recalls. "They thought I would roll over and give up my land rights, case closed. No way."
Poitevent's great-grandfather, John, acquired the flat, pine savanna acreage after the Civil War and the land was kept in silviculture and used in conjunction with a family lumber mill until the Great Depression. After an idle 20-year stretch, the Poitevent family signed a 90-year lease, and Weyerhaeuser acquired the lease in the 1990s. The land currently remains an active tree farm. (Of the total 1,544 acres in the habitat designation, the Poitevent family owns almost 95%. Weyerhaeuser owns the remainder.)
Why is the FWS insistent on Poitevent's property? Rewind to the 1960s. The dusky gopher frog hasn't been seen in the Pelican State since 1967, according to the Department of Interior. Not on Poitevent's land; not in St. Tammany Parish; and not anywhere in Louisiana. However, Louisiana historical records confirm the past presence of the dusky gopher frog on Poitevent's land prior to the 1960s.
The reclusive, 3" dusky gopher frog was designated as endangered by Mississippi in 1993 and by FWS in 2001. The frog burrows in the ground, prefers a longleaf canopy and minimal underbrush habitat and requires temporary ponds for reproduction. In 2007, the Center for Biological Diversity (CBD) sued FWS to force designation of critical habitat: Find the frog a home.
Frog in a Haystack
The initial critical habitat was promulgated in 2010 and proposed land located exclusively in Mississippi. However, Joseph Pechmann, a biology professor at New Orleans University (now at Western Carolina University), informed FWS of his past dusky gopher frog research on Weyerhaeuser-related land. "I was a reviewer for the FWS critical habitat draft findings," Pechmann explains. "In one of my comments I said species restoration could look to a larger part of the former dusky gopher frog range. The records showed the Weyerhaeuser land was suitable. When I suggested this property, I thought it was owned by Weyerhauser. I didn't realize they were leasing."
With Pechmann's tip, FWS eyes turned to Poitevent's 1,544 acres. "I literally had a biologist trespass on my land along with numerous government agents assisting him just because he thought he might have heard the croak of a dusky gopher frog somewhere in the vicinity of my property in the dead of night many years ago," Poitevent says. "A croak in the dark on a vast tree farm? Pechmann whispered about my land and the FWS came running to get it. The fact that Professor Pechmann now says he 'thought' Weyerhaeuser was the owner of my land at the time shows how utterly reckless he and the FWS were with the facts."
Pechmann believes the dusky gopher frog existed on the property when the Poitevent family bought the land after the Civil War and says the frog could be found on the acreage until at least 1965. According to Pechmann, FWS wants to restore the frog to genuine former habitat. "It's very likely the timber management practices of the Poitevents and their tenants contributed to the disappearance of dusky gopher frogs from the property. Their practices are certainly responsible for any shortcomings of the habitat for use by dusky gopher frogs."
"I doubt the Poitevent family or the other timber companies had any idea they were hurting frogs. But I think it's important to keep this in mind: The Poitevents were not idle bystanders in the disappearance of the dusky gopher frog from their land and that's important to remember when you are weighing habitat for an endangered frog against private landowner rights," he adds.
Receiving partial blame for the demise of the dusky gopher frog doesn't sit well with Poitevent: "The FWS, CBD and Professor Pechmann can preach and point fingers about morals all day long, but I thought our first moral duty was to people. They need to look themselves in the mirror and get their priorities straight. We intend to use this land for the benefit of the people of St. Tammany Parish, not some non-existent creature that cannot live there and won't ever be there. That's the moral thing to do," he says.
"The FWS and CBD should read their own economic analysis that estimated the loss to us at $34 million. The fix was in from the very beginning, and my family and I were the losers. Who's going to pay for the 1,544 acres to be completely torn up, new trees planted on all of the 1,544 acres, ponds maintained for the frogs, the land burned and the undergrowth cut every single year? The U.S. taxpayer? How sane and moral is that?" Poitevent adds.
FWS Crosshairs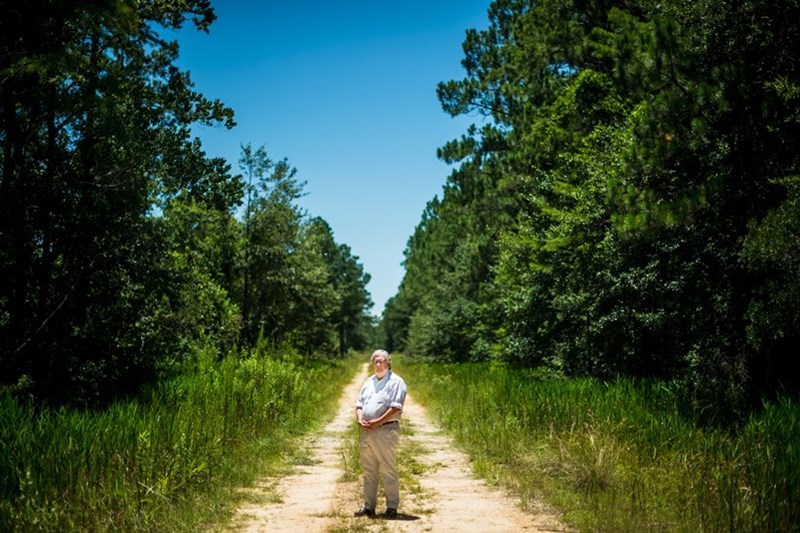 FWS placed Poitevent's land in the critical habitat crosshairs, despite a chain of blinking red lights: private land, wrong trees, heavy underbrush, a long-term timber lease, a $34 million devaluation in the property according to FWS' own economic impact study, crystal clear statements from Poitevent that he wasn't going to pay for the restoration or cede the land and a total lack of legal authority to reintroduce the dusky gopher frog on the 1,544 acres in question.
"FWS has no power to introduce the species, but took my land for some mythical day when this might happen at someone else's expense," Poitevent notes. "Despite the fact the physical elements of survival don't exist on my land and it would take millions of dollars to restore the land to its original habitat, FWS kept going. Once the wheels of the bureaucracy get going, they never stop. They just grind on. FWS did this because it's of no consequence to them. But it sure is to me.
"The animal is extinct in Louisiana and we're not going to allow it on our land and jeopardize a $34 million commercial value," he continues. "The government says the $34 million cost to us is 'insignificant', but it seems to me only an unelected, unaccountable set of bureaucrats paid by the taxpayers in a government with a debt of $20 trillion can say that with a straight face. And this is the same government that wants to turn the land into a resort habitat for a non-existent frog that cannot ever—and will never—live there?
"This is absolutely crazy and I haven't seen a hint of common sense from our government," Poitevent adds.
Collette Adkins, senior attorney at CBD, says the dusky gopher frog can coexist with private landowners. "We've already seen coexistence in Mississippi, and it could happen in Louisiana if Mr. Poitevent had a different set of values where he could recognize the moral duty to protect endangered species. He has values where private property trumps everything else."
Adkins says critical habitat designations don't automatically mean restrictions of private land use. "He can continue to use the land for timber with no impediments. The only reason critical habitat would bring any change is if he needed any sort of permit in the future. Even then, it would be extremely rare for FWS to determine that no development is allowed."
She admits FWS can't force Poitevent to reintroduce the dusky gopher frog, but she says he has a responsibility to protect the frog. "I wish he'd embrace the chance to save this highly endangered animal. But if he refuses, the government cannot force him. If he needs a federal permit to develop the land, then legal consequences from the critical habitat designation could kick in. But there isn't any now. Not yet anyway."
FWS officials have consistently claimed critical habitat designation on private land doesn't stop development or hinder business. Poitevent says the claims are ludicrous: "Who believes that? Who wants to buy land and try to build on critical habitat ground dealing with EPA, Corps of Engineers, wetlands permits, endangered species and much more. Who believes that foolishness?
"Remarkably Intrusive?"
Poitevent says the situation is "remarkably absurd, yet frightening" for private landowners and farmers. "The government was working backward once they spotted my land. This was a case-closed, done deal right from the start."
Poitevent took his fight to court, and although U.S. District Judge Martin Feldman upheld the critical habitat designation, the text of Feldman's ruling was remarkably blunt: "The court has little doubt that what the government has done is remarkably intrusive and has all the hallmarks of governmental insensitivity to private property. The troubling question is whether the law authorizes such action and whether the government has acted within the law. Reluctantly, the court answers yes to both questions."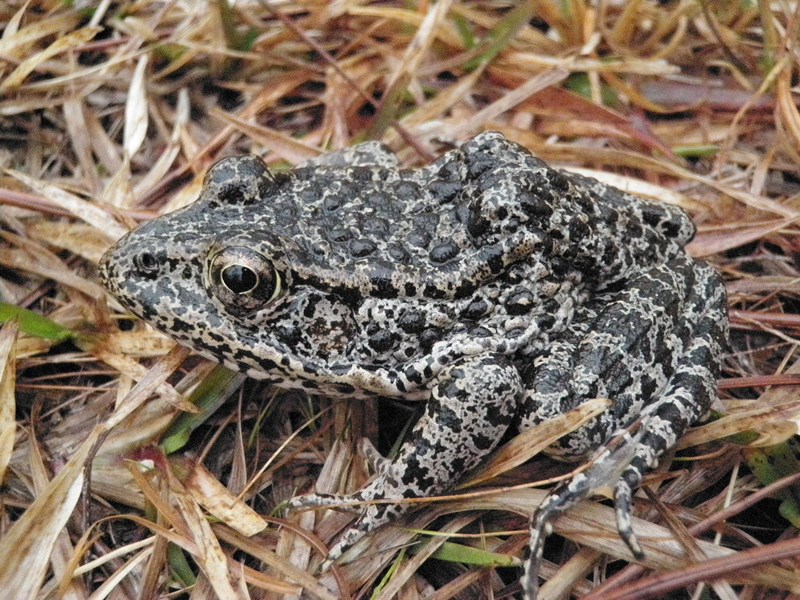 A subsequent appeal to a three-judge panel of the Fifth Circuit also was knocked down by a 2-1 vote. Yet, the dissenting judge warned any private landowner could be subject to the logic of critical habitat designation for regionally extinct species. The full Fifth Circuit declined to review the panel's 2-1 decision (8-6 vote), but the six dissenters acknowledged the $34-million loss in future development opportunities and offered a strong rebuke, warning of "unprecedented and sweeping" government overreach.
Chevron Looming
The Supreme Court will consider taking Poitevent's case this fall. If SCOTUS agrees to hear the case, "Chevron deference" will be thrown in the legal spotlight. Pared down, the landmark 1984 Chevron decision said when "ambiguous language" pops up in federal law, judges should defer to government agency interpretation. (When the text is in doubt, rely on agency discernment.)
Ambiguous language is a hallmark of regulatory and environmental law, and Chevron provided a major boost for government agency authority. Mark Miller is a senior attorney with the Pacific Legal Foundation (PLF) and says Chevron's judicial deference to agencies allows courts to abdicate the decision-making role: "The feds can do as they like and then hide behind Chevron. In Ed Poitevent's case, the Endangered Species Act doesn't say critical habitat includes areas where a given creature isn't even present. Courts often are so happy to defer to agencies. Chevron absolves them and then there's no need to look behind the curtain."
Anybody, Anywhere?
PLF is representing Poitevent in the fight over critical habitat designation. "The FWS acted beyond the statute," Miller says. "Yes, they can control land where the frog lives, but the frog doesn't live on Poitevent's land. They can't lock down land on behalf of a frog that don't even live there. There's literally not a single one of these frogs in the entire state of Louisiana.
"Even in a long list of alarming ESA cases, this one stands way out. We've got 18 states that have filed amicus support and that shows the outrageous nature of this case. This outcome could apply in any state or for any landowner," he adds.
Miller also points to a phalanx of "friends of the court" support for Poitevent: California Cattlemen's Association, California Building Industry Association, Building Industry Legal Defense Foundation, Cato Institute, U.S. Chamber of Commerce, Center for Constitutional Jurisprudence, Energy and Wildlife Action Coalition, Mountain States Legal Foundation, National Association of Homebuilders and American Forest Resource Council, Southeastern Legal Foundation, Coalition for a Sustainable Delta, San Luis and Delta-Mendota Water Authority, Western Growers Association, Washington Legal Foundation, American Farm Bureau Federation, National Alliance of Forest Owners and National Mining Association.
Yet, Pechmann says PLF has taken on the Poitevent litigation as part of an ideological battle where property rights trump endangered species. "PLF is bankrolling this. Private property rights shouldn't rule over the survival of an endangered species. Mr. Poitevent's family owns 45,000 acres and only about 3.5% is in critical habitat; it's not like this is a huge amount of the family livelihood. It's hard to see this as a burden on Mr. Poitevent. If the land is worth as much as he says, he wouldn't be leasing to Weyerhaeuser and it would already be in development."
FWS consistently shows willingness to work with landowners, Adkins contends. "The courts haven't reversed the critical habitat designation and all the experts agree Mr. Poitevent's land is special habitat for the frog. What we have is very special land owned by somebody very much against endangered species and that's why we've got this conflict in the dusky gopher frog case."
Adkins believes SCOTUS will decline Poitevent's case. "Every lower court has upheld this critical habitat designation. This case is solely about Mr. Poitevent's property and has no nationwide significance."
However, at least 18 states believe the Poitevent case carries direct nationwide significance, evidenced by a phalanx of amicus support. In addition, U.S. Circuit Judge Edith Jones, in dissent of the Fifth Circuit's panel decision, wrote: "The ramifications of this decision for national land use regulation and for judicial review of agency action cannot be underestimated."
"Let's be clear," Miller counters. "If the feds can deem this property as critical habitat when the species in question doesn't even exist in the entire state, they can do this to anybody anywhere, and Americans need to pay attention. This is a bridge way too far."
Poitevent is quick to point out that most landowners don't realize the vast range of ESA inclusion. "My land is no different than anyone else's land. Your property could be manipulated next for a species you don't even know about. Remember, ESA even includes plant species and that is a universe of scope. Whose land escapes? Nobody's."
A Frog's Coffin?
"Common sense Americans are outraged by what the government has done to my land, all in the name of a frog that's literally not even on my land and is extinct in my state. If this nightmare can happen to me; it can happen to them any moment if the government suddenly decides it knows better."
If Poitevent's land is indeed as vital to dusky gopher frog survival as the government claims, FWS has possibly hammered the final nails into the frog's coffin by forcing Poitevent's hand. The regulatory rules and millions of dollars in litigation fees have been aimed at an amphibian species FWS knows will never exist on Poitevent's land. FWS has no power to enforce reintroduction, and Poitevent has been explicit in his denials from the get-go of the conflict.
The Poitevent case plainly shows private property rights can be sidestepped in favor of regionally extinct species with the backing of the U.S. court system. Pending a SCOTUS decision, a regionally extinct plant or animal can be the ESA basis for a critical habitat designation, a reality not recognized by most U.S. landowners and farmers. The past is present, according to FWS: A dusky gopher frog croak last heard by Louisiana locals 50 years ago is still heard by the federal government today.
"Lincoln in his famous Gettysburg Address said we have a 'government of the people, by the people and for the people.' This frog case was of, by and for a runaway bureaucracy committed to self-preservation for itself and its allies," Poitevent says. "The government and Professor Pechmann trespassed on our land, trampled our constitutional rights and made my family's land worthless. To add insult to injury, they won't pay us for it. How fair is all of that? This has been a nightmare, but it's our land—not the FWS', the CBD's or Professor Pechmann's—and I'm not rolling over for anyone."