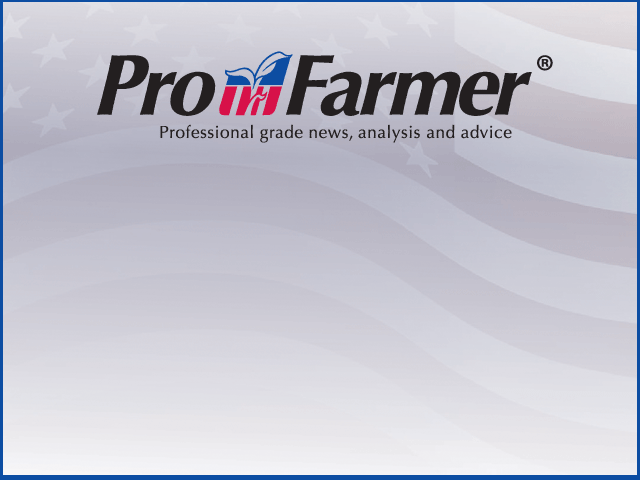 Corn: 13.953 billion bu.; Average yield of 167.1 bu. per acre
Corn /- 1% = 14.093 billion bu. to 13.813 billion bu.; 168.8 bu. to 165.4 bu. per acre
Soybeans: 4.331 billion bu.; Average yield of 48.5 bu. per acre
Soybeans /- 2% = 4.418 billion bu. to 4.244 billion bu.; 49.5 bu. to 47.6 bu. per acre
Note: These estimates are based on assumptions for normal weather through September. Weather next month will be especially important as an earlier-than-normal frost/freeze would damage later-maturing corn and soybeans. We raised harvested soybean acres by 500,000 to 89.231 million acres. Initial Farm Service Agency Certified acreage indicated soybean acres will be higher than estimated than in the June Acreage Report. We made no change to corn acreage.
Corn
Ohio: 163 bu. per acre. A wet spring led to planting delays and replants, so Ohio had the most immature crop we measured. Cold is less of a factor in the state since it is somewhat protected by the Great Lakes.
Indiana: 171 bu. per acre. As with much of the eastern Belt, the Indiana corn crop took a punch from Mother Nature, but it got up off the deck. Weather helped out. Grain length was up from year-ago, ear counts were down and variability — once again — is an issue.

Illinois: 181 bu. per acre. The crop will be down from year-ago... the question is by how much. Impressive yields were scarce. Yields and crop health improved as scouts traveled west. However, holes, nitrogen deficiency and replants dragged down crop potential.
Iowa: 183 bu. per acre. Drought-stressed crops in Iowa performed better than expected. But corn in western areas has cannibalized to maintain yield. This could lead to quality issues. Plus it will take more kernels to make a bushel this year.
Minnesota: 184 bu. per acre. This looks more like the 2015 crop than the 2016 crop... good, but not great.

Nebraska: 180.5 bu. per acre. Nebraska was a pleasant surprise. Whereas dryland pulled up the lower end of yields in recent years, this year it was the irrigated corn that lifted the estimate.
South Dakota: 138 bu. per acre. The crop was suffering from some of the same cannibalization issues as Iowa. And Tour hit the best areas.
Soybeans
Ohio: 53.0 bu. per acre. Ohio was the only state where pod counts were up from year-ago. The yield factory is there, but warmth and water are needed to fill out short, flat pods. Double-crop acres are down.
Indiana: 54.5 bu. per acre. Pod counts were essentially even with year-ago, but lagging maturity is a concern once again. Heavy rains during Tour should help the crop, but more rain and sunshine will be needed.
Illinois: 55.5 bu. per acre. Pod counts remained variable in Illinois and the crop needs more rain and sunshine to finish. Crop health was solid and insect pressure was lacking, as was the case for much of the Tour.
Iowa: 53.5 bu. per acre. Pod counts from western Iowa were shockingly low. They were better for the eastern areas, but the big numbers were still missing. And the crop was far enough along that it will not build yield potential. Much of Iowa's crop flowered during the hottest part of the summer.
Minnesota: 48.5 bu. per acre. We found somewhat disappointing pod counts based on the tall, rank plants that are common in southern areas of the state. Northern areas (where we don't sample) have been dry.

Nebraska: 56.5 bu. per acre. A decent crop is in the works, but it won't be anywhere near last year's. Storm damage and disease pressure are lacking.
South Dakota: 40.5 bu. per acre. We found a lot of flat pods in the state. The potential is there, but the crop needs multiple rains to finish the job.