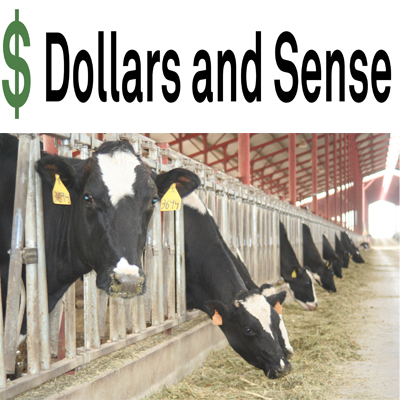 Pete Wiersma
Buhl, Idaho
In addition to helping manage 1,500 cows on his family's two dairies in Idaho's Magic Valley, Wiersma serves on the boards of United Dairymen of Idaho and Independent Milk Producers.
 
---
Vaccinations, hoof trimming, insurance, equipment upkeep. As varied as these are they all have something in common: They're all a form of risk management. In fact, most of the decisions we make every day are made to manage risk. Don't we all choose the shortest line at the check-out counter to reduce the risk of waiting too long?  When we make a decision based on the probability of something happening (or not happening), we're managing the risk.

On our operation, we manage risk the same way that most other dairy farmers do. We carry insurance on feed inventory, equipment, facilities, vehicles and ourselves. We follow a vaccination program recommended by our veterinarian to reduce the risk of a disease spreading through our herd. We do maintenance hoof trimming to reduce the incidence of lame cows. Equipment failure is a constant risk, so we have regularly scheduled servicing and maintenance of all that as well, and to avoid the consequences of an extended power outage, we have a generator ready to provide back-up power.
Depending on the time of year, there is the risk of weather having an adverse impact on our animals. Here in south central Idaho, you can usually count on the wind blowing, sometimes fairly hard. Combine that with open-lot corrals and winter temperatures that can dip into the teens, and the possibility of frost-bitten teats becomes a real danger. Windbreaks in and around corrals help slow the wind down and reduce that risk.
These things and more are all forms of risk management, but, truthfully, the first thing I think of when I read or hear the term "risk management" is margin protection. So much has been written on how we should go about protecting our profits that it can be difficult to know what to do, if anything. 
On our dairies, contracting feed is pretty routine as long as the opportunity is there, but contracting milk--not so much. With the help of a consulting firm, we tried locking in milk and feed prices at the same time by using the futures markets--essentially locking in a margin. That seems to be the way to go IF you can trust your advisor enough to make those very important trading decisions that you may not completely understand. You also have to be willing to give up profits now to protect from losses later. Those are two big stumbling blocks for me that, so far, I have been unable to get past. 
Right now I'm trying to learn as much as I can about the Margin Protection Program contained in the new farm bill. That seems to have real potential as an insurance policy on profit margin. I'm hopeful that it will be another useful tool in our risk management toolbox.
Wiersma's recent prices
Milk
$23.94 (3.67 bf, 3.16 prt)
Cull cows
$95-$110/cwt.
Springing heifers
$2,200/head
Alfalfa hay
$220/ton
Cottonseed
$340/ton
Ground corn
$195/ton
Corn DDGs
$195/ton