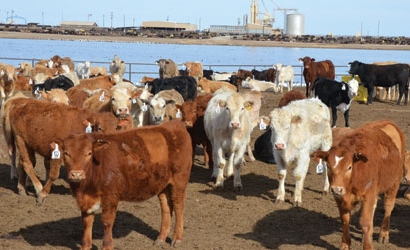 After several months of exceptional profits, cattle feeders lost money last week. It's the second consecutive week feeding margins nose-dived, this time it was a $77 decline leaving closeouts showing losses of $33 per head, according to the Sterling Beef Profit Tracker.
Cash cattle prices fell $5 per cwt. last week, with the 5-area Direct price at $161.85, a major contributor to declining feedyard margins. The price of feeder cattle, however, is the primary reason feeding margins have tumbled. Feeder steer values against last week's fed cattle sales averaged $217 per cwt., a $69 per cwt. increase over the same week a year ago. That means the feeder cattle cost about $520 per head more this year than last, and feeder cattle represent nearly 79% of the total cost for finishing a steer. A year ago feeder cattle represented 66% of that total cost.
Farrow-to-finish pork margins also declined last week, closing with a per head profit of $35. Both beef and pork profit margins are calculated by Sterling Marketing, Vale, Ore.
Beef packers saw their margins improve $9 per head, though losses remain at $61 per head, Sterling Marketing estimates. Those losses are $18 per head more than last year's average losses of $44 per head. The beef cutout was down about $6 at $246.
Pork packers saw their margins improve about $4 per head, with profits now over $7 per head.
Cash prices for fed cattle are $30 per cwt. higher than last year, and negotiated hog prices are $6 per cwt. higher than last year.
Nalivka projects average cash profit margins for cow-calf producers at $556 per cow this year. Last year's estimated average cow-calf margins were $243 per cow.