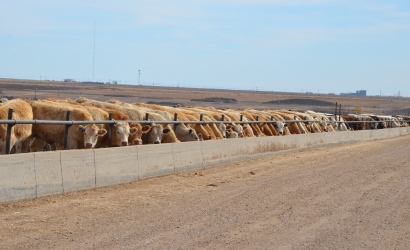 Cattle feeding margins nose-dived $100 per head last week, settling at $45 per head, according to the Sterling Beef Profit Tracker. Cash cattle prices averaged $166 to $167, fully $4 per cwt. lower than the previous week. Increasing costs of feeder cattle are also playing a larger role in feedyard closeouts. The price of feeder cattle accounted for nearly 78% of the total cost of producing a finished steer, or about 9% more than this time last year. Farrow-to-finish pork margins declined slightly, closing last week with a per head profit of $40. Both beef and pork profit margins are calculated by Sterling Marketing, Vale, Ore.
Beef packers saw their margins improve $8 per head, though losses remain at $70 per head, Sterling Marketing estimates. Those losses are $34 per head more than last year's average losses of $36 per head. The beef cutout was down about $1 at $252.17.
Pork packers saw their margins improve about $1 per head, with profits now just over $3 per head.
Cash prices for fed cattle are $36 per cwt. higher than last year, and negotiated hog prices are $7 per cwt. higher than last year.
Nalivka projects average cash profit margins for cow-calf producers at $556 per cow this year. Last year's estimated average cow-calf margins were $243 per cow.