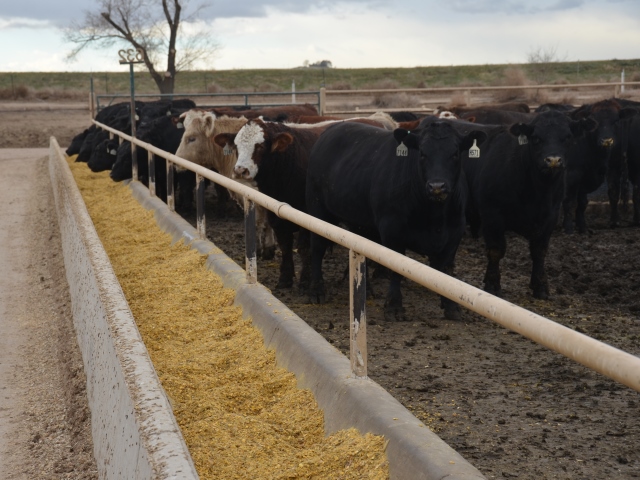 Another miserable week left many in the cattle feeding business on the brink of financial ruin. Closeouts reveal an average loss of $681 per head, fully $70 per head worse than the week before, according to Sterling Marketing, Vale, Ore.  USDA's reported 5-area cash price last week was $118.52 per cwt., $5 per cwt. lower than the week before and $52.39 per cwt. short of breakeven.
"This unbalanced situation cannot be sustained in a market that will see 4% more beef, continued record pork production, and a likely 4% increase in chicken production during 2016," says Sterling Marketing president John Nalivka. "Prices are aligning to a changed supply situation. Cattle weights will remain relatively high during 2016 with increased numbers as herds expand.  While hog producer margins have turned red with significantly lower lean carcass values, this is not likely to cause a setback in continued herd expansion through most of 2016.  Poultry production will increase, too.  The result will be increased total meat supplies and lower prices and it will be noticeable for beef after 2 years of record prices, although prices are expected to generally remain above 2013 levels."
The ongoing market wreck has pulled feeder cattle prices significantly lower. Oklahoma City feeder steer prices factored into Sterling Marketing's sample closeout against last week's fed cattle was $225.79 per cwt. The same steers factored into last week's placements at $160 per cwt., or $526 per head less.
Beef packer margins increased $43 per head, resulting in average profits of $71 on every animal processed. Packer margins are about $19 per head better than last month.
A month ago cattle feeders were losing $518 per head, while a year ago losses were pegged at $33 per head, according to Sterling Marketing. Feeder cattle represent 78% of the cost of finishing a steer.
A month ago beef packers were earning $52 for every animal processed, while a year ago packers were losing $70, Sterling Marketing estimates.
Farrow-to-finish pork producers lost $25 per hog last week, about the same as losses the previous week,  but slightly lower than the $28 per head loss found a month ago.
Pork packers saw their margins increase $2 to a profit of $29 per head. Negotiated prices for lean hogs were $53.92 per cwt. last week, an increase of $0.74 per cwt. from the previous week. Cash prices for fed cattle are $43.33 per cwt. lower than last year, and negotiated hog prices are $31.56 per cwt. lower than last year.
Nalivka projects average cash profit margins for cow-calf producers at $490 per cow this year. Last year's estimated average cow-calf margins were $526 per cow. Cow-calf profits for 2016 are projected at $232 per cow.