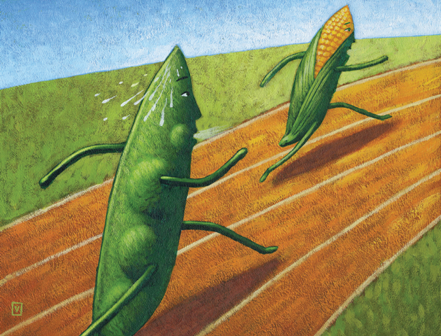 After the USDA released its latest commodity outlook reports last Friday (2/20), some traders were left scratching their heads about the soybean numbers. The agency is estimating 83.5 million acres for 2015.
"It's a baseline number. It's a place to start, and we build and add from there," cautioned Tommy Grisafi of Advance Trading on U.S. Farm Report. "Things never work out like they look like they are going to .... so we start from there. We start penciling those numbers, but I think the bean number was the shocker. ... I think you have to take these numbers with a grain of salt."
John Newton, a University of Illinois ag economist, took a look at the soybeans numbers and concurs – they do seem low.
"Trade guesses on soybean plantings for 2015 range from a low of 82.1 million acres to a high of 88.3 million acres," he says. "On average, however, the trade guess suggests a 2.3 million acre increase to 86.0 million acres of planted soybeans for 2015."
If the USDA is correct with its 83.5 million estimate, that represents a decline of 200,000 acres planted from last year and is a full 2.5 million acres lower than the average trade guess, Newton says. As for harvested acres, the USDA projects 82.6 million acres – again, down slightly from 2014 (by 500,000 acres) and 2.7 million acres lower than the average trade guess.
Interestingly enough, Newton notes, while USDA projections are "surprisingly low" for planted and harvested soybean acres, it also projects yield above market expectations.
"These two measures effectively offset, and the projected size of the soybean crop is only 56 million bushels below the average trade guess of 3.856 billion bushels," he says.
It will continue to be worth monitoring the ongoing pace of 2014-15 marketing year consumption, along with USDA's 2015 Prospective Plantings report, which will be released March 31, Newton adds.
What are your expectations for the 2015 U.S. soybean crop? Weigh in on the AgWeb discussion boards.