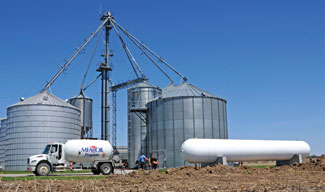 Midwest inventories are 15% higher than last year.
After last winter's propane shortage and resulting sky-high prices, a forecast for ample supplies and sharply lower prices is welcome relief.

According to the Energy Information Administration (EIA), propane prices this winter (Oct. 1 to March 31) are forecast to be 23.8% lower than last winter at $1.99 per gallon. This compares to $2.61 per gallon last winter, the highest price in years. Consumption is also forecast to be down by 13.2%.

Prices aren't expected to drop quite as much in the Northeast, where a 5.1% price drop and $3.38 per gallon are expected.

The anticipated record corn harvest—depending on its timing and moisture content—could effect the propane market, however.

As of Sept. 26, Midwest propane inventories were above the five-year average and 3.7 million barrels higher than year-ago levels. Some developments suggest concern, though. 

Recent infrastructure changes might effect propane supplied to the Midwest in the near future, especially under high-demand conditions. The major pipeline that transported supplies from Canada to the U.S. has been reversed and is now moving condensate from the Midwest to Canada, primarily due to expanded shale oil production.

At least some of these supplies will be replaced by additional propane from several existing pipelines that move the fuel north from Conway, Kan., to the upper Midwest, as well as expanded rail and storage capacity in the region, EIA says. Midwest propane inventories are about 15% higher than last year at this time. Furthermore, retailers report many customers are filling their propane tanks early.

A large factor in EIA's more buoyant forecast is the latest National Oceanic and Atmospheric Administration  prediction that calls for close to normal U.S. temperatures—about 10% warmer than last winter.