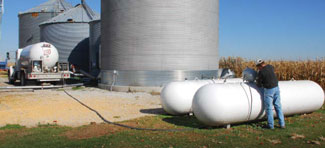 Buy early and add storage to avoid grain-drying crunch at harvest
One of the sharpest propane price spikes in history happened this past winter, and though the market has calmed, fundamentals haven't changed much. Grain drying could once again be challenging this fall given the possibility of record corn yields, an early frost and logistical problems. 

In response, dealers and a growing number of producers are changing how they buy and store propane to hedge against higher prices and supply shortages.

"Propane inventories in the Midwest are still just incrementally better, well below the five-year average," says Justin Dreckman, energy division vice president at United Cooperative in Beaver Dam, Wis. "The situation is not significantly better than a year ago." Because of that, Dreckman advises producers to book 2014/15 propane needs soon. As of late summer, 80% of his customers had booked propane compared to just 40% a year ago.
---
"Propane supplies are higher, it just isn't when and where it needs to be." 
—Justin Dreckman, energy division vice president, United Cooperative
---

"Last year was the perfect storm," notes Matt Kumm, propane marketing manager for CHS. "Prices were never as high as they were the winter of 2013/14." Demand pressures included a record corn harvest that needed the most drying since 2009 and a record cold winter.

Additionally, railways—historically used to ship 50% of Midwest propane—became tied up because of oil industry demand and rail car shortages. There's no quick fix, either. CHS has spent $24 million to try to reduce transportation bottlenecks, Kumm says, but the entire industry will need to develop solutions.

Early Purchases Increase. Thus, farmers can't rely on just-in-time delivery. "It's time for farmers to invest in storage," Kumm advises. Infrastructure allows producers to buy propane and schedule deliveries from April through September, when the input is typically cheapest.

"We've been selling or leasing 8,000- to 30,000-gallon tanks to farmers," says Lynn Nelson, general manager, Farmers Union Oil of Southern Valley in Fairmount, N.D. "Many of our customers have purchased half of their needs." Few made those purchases a year earlier, he adds, and they don't want to be in that position again.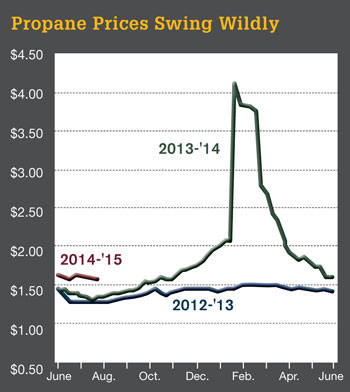 After peaking this past winter, propane prices retreated sharply. Market fundamentals could drive prices back up again, though, so experts recommend that farmers book the input earlier in the season and add more on-farm storage. Source: Pro Farmer's Inputs Monitor.

Although July propane production at U.S. natural gas plants was 150,000 barrels per day higher than a year ago, prices averaged 10% to 15% higher. Average farm prices stood at $1.58 per gallon, up from $1.34 in 2013, notes Davis Michaelsen, editor of Pro Farmer's Inputs Monitor. One reason for price strength is more farmers are buying early. This past year, winter prices were four times higher than summer prices in some areas, and a repeat is possible this year, he warns. The risk of being caught short far exceeds the risk of buying too much. "Propane doesn't go bad," he adds.

Sharp regional differences remain, notes the U.S. Energy Information Administration. By late summer, U.S. supplies had risen higher than the five-year average for the first time since this past winter. Yet in the Midwest, inventories remained below the levels of a year ago and more than 3.6 million barrels beneath the five-year average.

Steady Supplies. Ironically, natural gas and oil production, both precursors to propane, continues to soar. Natural gas prices have dropped 38%, from $6.18 per million Btu between 2001 and 2009 to $3.81 between 2009 and the present, according to Rabobank. 

Propane prices have not fallen by a comparable amount because of logistics. "Propane supplies are higher, it just isn't when and where it needs to be," explains United Cooperative's Dreckman. That creates higher transport costs. 

For example, in an unusual case this past winter, propane in Wisconsin rose to $7 per gallon because a retailer had to truck product from North Carolina. Dreckman had to source product from as far away as Kansas.

There is "a lot of nervousness in the propane marketplace," which has added to premiums, agrees Chuck Springman, energy manager for CHS Eastern Farmers, Brandon, S.D. He notes demand softened from Gulf exporters, so more product arrived in the Midwest. 

"That's absolutely good for farmers, but the situation can change quickly," Springman explains.

Most propane marketers have carrying charges or penalties in their contracts to account for producers who do not use booked gallons. For that reason, Springman recommends farmers book 50% to 75% of propane needed for grain drying early in the growing season. They can book the rest once they have a clearer picture of propane demand based on weather patterns in late summer and early fall.

Changes in the propane market suggest producers need to adapt how they manage their energy supplies, Dreckman says. He advises producers to treat propane similar to agronomic inputs. Develop accurate financial forecasts for expected propane needs by calculating yield and anticipating moisture content at harvest.
---
By Nate Birt
Law Would Expand Propane Data-Sharing Practices
Proposed legislation introduced in the U.S. Senate on July 31 aims to increase the flow of information when access to propane tightens. The bill, known as the Propane Supply and Security Act of 2014, has support from Sen. Tammy Baldwin (D-Wis.), Sen. Al Franken (D-Minn.) and Sen. Rob Portman (R-Ohio). 

The measure would require the administrator of the U.S. Energy Information Administration to publish "to the maximum extent practicable" weekly inventory data about propane storage at the state level and at collective storage facilities in and around propane market hubs such as Mont Belvieu, Texas, and Conway, Kan., according to the text of the legislation. 

It would empower the U.S. Secretary of Energy to lead state and federal emergency response efforts to a propane supply crisis resulting from "sudden increases in consumer prices for propane" or "propane supply shortages that threaten public safety or livestock safety." 

Among other actions, the energy secretary would be permitted to exempt motor carriers delivering propane from hours-of-service restrictions, prioritize propane shipments by rail or over other shipments in batched pipelines, expedite the release of energy assistance funds and take "other actions to relieve price spikes and supply shortages." 

In a news release, the National Propane Gas Association lauded the measure as an answer to propane price increases this past winter. 
The bill, S.2762, has been referred to the Committee on Energy and Natural Resources.