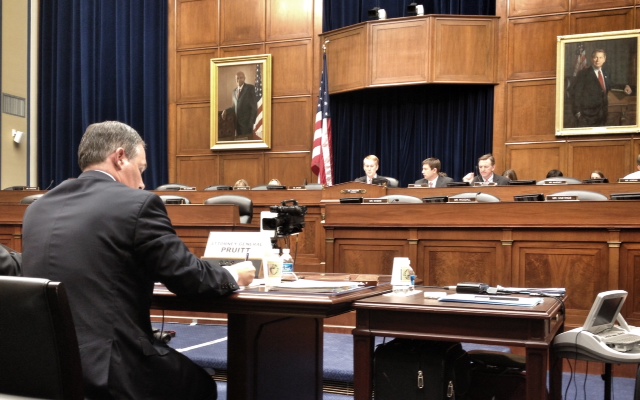 When it comes to the Environmental Protection Agency (EPA), President Donald Trump has certainly delivered on his promises of deregulation. Trump's 2018 budget proposal includes a 31% cut to EPA's budget and a reduction of approximately 3,200 positions at the agency.
"The budget for EPA reflects the success of environmental protection efforts, a focus on core legal requirements, the important role of the States in implementing the Nation's environmental laws, and the President's priority to ease the burden of unnecessary federal regulations that impose significant costs for workers and consumers without justifiable environmental benefits," according to the proposed budget.
The 2018 budget outlines eight areas in particular regarding the EPA.
1. The proposed budget would give a slight increase of $4 million to $2.3 billion for State Revolving Funds, along with $20 million for the Water Infrastructure Finance and Innovation Act program. The budget promises "robust funding for critical drinking and wastewater infrastructure."
2. The Clean Power Plan, international climate change programs, climate change research and partnership programs and related efforts would all be discontinued for a savings of more than $100 million.
3. The Hazardous Substance Superfund Account would be funded $330 million below 2017, at $762 million. Priorities would include cleaning up hazardous waste sites and removal of barriers that delays the program's ability to return sites to the community.
4. The EPA Office of Enforcement and Compliance Assurance budget would be reduced by $129 million to $419 million total. The EPA will provide oversite for consistent state and local  enforcement.
5. The EPA Office of Research and Development would be funded at $250 million, which is $233 million lower than 2017. Cuts include so-called "extramural activities," such as awarding STAR grants, which in the past have been awarded to universities for research involving sustainability, health, air quality, climate change and related issues.
6. Categorical Grants would face a $482 million cut from 2017. These grants have been given to states to implement various air, water, waste, pesticide and toxic substance programs. "This funding level eliminates or substantially reduces Federal investment in State environmental activities that go beyond EPA's statutory requirements," according to the budget proposal.
7. Several regional efforts, including the Great Lakes Restoration Initiative and the Chesapeake Bay Initiative, would be defunded. Total geographic program eliminations bring the budget in this area $427 million lower than 2017. The budget proposes that the responsibility for these environmental efforts and programs belong at the state and local level.
8. More than 50 other EPA programs, would also be eliminated, for an additional savings of $347 million. Most of these programs are not mentioned by name in the budget proposal, but it does mention Energy Star, the prominent program intended to "promote energy efficiency in products, homes and buildings nationwide." Also mentioned by name is the Endocrine Disruptor Screening Program, which screens pesticides and chemicals for their potential effect on the human endocrine system.
Click here to read the entire 2018 budget proposal, which highlights changes to the EPA, USDA and many other areas of Federal government.