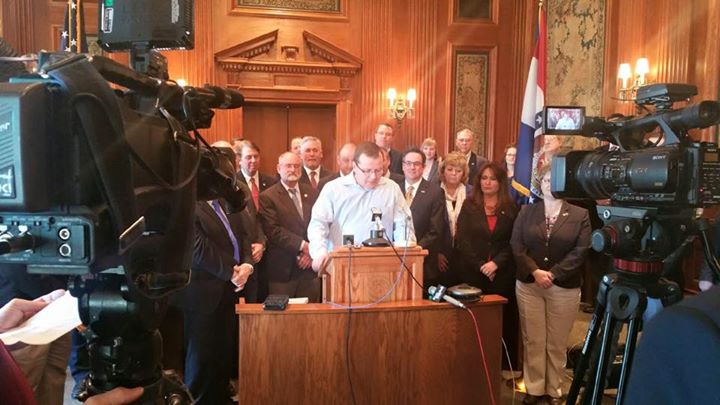 State Sen. Brian Munzlinger announced legislation Monday that would create tax incentives for Missouri landowners to work with beginning farmers, an effort he says could help attract a younger generation to agriculture.
The Republican lawmaker from Williamstown said he worries it's too expensive for some young farmers to start out in the state, where the average age for farmers and ranchers is 56.
Missouri Cattlemen's Association Executive Vice President Mike Deering said the state faces losing a generation of farmers at a time when demand for food production is increasing.
"It's important not only to protect our agriculture production industry, but to continue to grow Missouri's No. 1 industry," said Munzlinger, who chairs a Senate committee on agriculture and has sponsored numerous bills related to the industry.
Most of Munzlinger's bill focuses on incentives for established farmers to help out younger workers about to start their career in agriculture.
The legislation would allow up to $12 million a year in tax credits for property owners who lease land or contract to have part of their land farmed by beginning farmers. Landowners would qualify for tax credits worth 7 percent of what a beginning farmer pays to lease land or 7 percent of what landowners pay those farmers to cultivate on their property.
Missourians who have not operated a farm or ranch for more than 10 years would qualify. Those with farms or ranches larger than 30 percent of the county average wouldn't be eligible.
Other provisions in the bill would give tax incentives to landowners who sell property to new farmers.
Ryan Messner, a member of the Missouri Cattlemen's Association from Stanberry, said he found few resources in Missouri to help him when he first tried to start his career in agriculture. He said he struggled to compete to lease land while others laid stake to close to 30,000 acres in his area.
"I started looking to possibly move from Missouri," Messner said, "just so I could do what I love."
Part of Munzlinger's bill is modeled after Iowa State University's Beginning Farming Center, which provides workshops on taking over a family farm and other resources.
The legislation would create a similar program with the University of Missouri's extension program.