---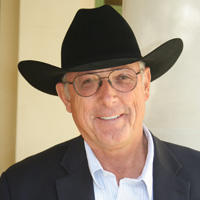 Larry Hancock
 
Muleshoe, Texas
A dairy pioneer on the Texas High Plains, Prairie View Dairy milks 4,200 Holsteins.
---
**Extended comments highlighted in blue.

Thirty-five years ago when we started Prairie View Dairy in far West Texas, our concerns were market, milk price, feed availability and a dry arid climate.

We realized how valuable water was, thought about our water use and made sure it was recycled several times before being used to water the fields. We also thought about our fertilizer use, making sure the safest amounts were spread on the fields to produce the best forage for the cattle and ensure that follow-up crops were possible.

We checked our rain gauges and watched the weather to ensure that the cows would be bedded in the cold, and pens would be clean and ready for the wet seasons.

We didn't call it environmental protection at the time, but it was. Today there are agencies and regulations that enforce the commonsense, good farming practices that most of us have been doing all along. Texas has the Texas Commission on Environmental Quality, which issues permits and enforces regulations and laws pertaining to environmental concerns.

We use a consulting firm (Enviro-Ag) to ensure we keep up with any changes, help us keep our records in order and make sure we are doing all that is necessary to permit. We also have a comprehensive nutrient management plan for our fields to ensure fertilizer amounts are correct for each soil condition and planting season.

The changes we've made due to regulations are mostly in record keeping. We now keep a daily and weekly log of weather events and any precipitation levels. We measure and log the lagoons to keep a record of any changes or usage. The next record keeping update we add will be on our sprinkler system, in order to measure the water usage that is put on the fields. 

Every now and then, we murmur about the time and expense spent to keep up with the record keeping and regulation changes. But we realize that doing all we can to protect the environment around us makes for happier and healthier cows, and that results in more of nature's most natural food - milk.
Hancock's Most Recent Prices
 
Milk (3.5% bf, 3.00% prt)
$19.38/cwt.
(September Statistical
Uniform Price for Dallas)
Cull cows
$74/cwt.
Springing heifers
$1,500/head
Corn
$309.26/ton (delivered)
Alfalfa hay (new crop)
$270/ton
Cottonseed
$337/ton
Cottonseed meal
$245/ton (contracted)
Ground corn
$335/ton (delivered)
DDGs
$256/ton
Beet pulp
$261/ton