Open Ag Data Alliance and AgGateway offer solutions
Like a lot of farmers, Aaron Ault has two common frustrations when handling his operation's field and yield data—compatibility and security.

"I know firsthand the frustration of working with closed systems on my farm," says Ault, who also serves as a senior research engineer for the Open Ag Technology Group at Purdue University. "As a farmer, I need the freedom to select the right hardware, software and services for my operation. In addition, farmers are naturally concerned with what will happen to their data when they sign up with service providers."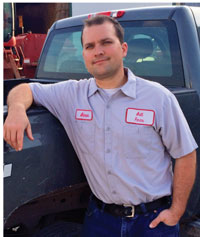 As a farmer and engineer, Aaron Ault is working to overcome compatibility and security obstacles with field and yield data.

Ault has been tapped to be the project lead for the newly formed Open Ag Data Alliance (OADA), an open standards software project created to ensure farmers have full data access, security and privacy. Initial members include AgReliant Genetics, CNH Industrial, The Climate Corporation, Growmark, Purdue's Open Ag Technology Group, Valley Irrigation, Wilbur-Ellis Company and WinField.

OADA plans to develop open reference implementations of data storage, as well as transfer mechanisms that have standardized security and privacy protocols. The ultimate goal of the  alliance is 100% compatibility and interoperability among all data-collecting equipment. OADA also hopes to foster an online community through its website (openag.io) that will encourage participation through anything from contributing software coding expertise to simply providing suggestions for improvements.

OADA organizers say that to maintain the group's integrity, it's equally important to define what the group is not—it's not a lobby group, it will not provide cloud storage, it will not produce or sell any products and it will not endorse or oppose any products.

Greg Smirin, chief operating officer of Climate Corporation, says OADA will be able to draw inspiration from other industries, such as healthcare, banking and even the construction of the Internet itself, in its march toward totally open software.

"This challenge is not unique to agriculture," he says.

As just one example, Smirin says the Internet has a standard, authenticated method of showing users they have arrived at a secure website, such as the padlock image, authenticity seals and a URL beginning with "https."

"We need to enable these kinds of mechanisms [in agricultural data sharing] in order for safe interactions to occur," he says.

Climate Corporation CEO David Friedberg adds that once open software standards were developed in other industries, progress accelerated. His hope is OADA can usher in high-speed progress to the ag industry.

Ault says OADA will also help champion an end of causing farmers to be "terms-of-service takers."

"We've had to put up with whatever terms that providers offer us," he says. "That has made farmers reluctant to share their data."  
---
AgGateway Responds
The Open Ag Data Alliance announcement did leave many wondering how the move will affect AgGateway, a business consortium of more than 180 member companies with "the mission to promote, enable and expand eBusiness in agriculture." Several current AgGateway projects, including the Standardized Precision Ag Data Exchange, are already working on data standards. In a letter to AgGateway members, Rod Conner, president and CEO, addressed those concerns of potential duplicated efforts and the possibility that OADA would develop competitive standards.

"I have been assured that OADA wishes to neither duplicate nor compete with AgGateway," Conner says. "So collaboration, which is at the heart of all AgGateway's efforts, certainly seems to be a possibility."

Conner says AgGateway has a good track record of working with other standards organizations to develop open standards that all of the agricultural industry can use. Collaboration—not competition—with these other standards development groups has been critical to the group's success.
---
For more information on Open Ag Data Alliance's goals and guiding principles, visit www.FarmJournal.com/ag_data