Expect successes and missteps in the process
When Mark Anson started using cover crops on his Indiana farm, he wasn't sure they would work. There was one thing he was sure of, though; he no longer had any enthusiasm for conventional farming.

"I was ready to sell out in 2010; I was sick of it," admits Anson, who is based near Vincennes, Ind., and farms more than 20,000 acres with three brothers and six nephews. 

Consequently, Anson says he was wide open to the idea of using cover crops to reduce soil degradation, which he felt was happening at an alarming rate across their entire farm.

"We went out that first year and broadcast wheat cleanings on 1,200 acres," he recalls.  

In that first year, Anson says they saw a small but positive response from the corn planted where cover crops had been sown. That was enough of a success to encourage the Anson family to plant 2,200 acres of cover crops the following year, including some on extremely steep, highly erodible ground. Today, the Ansons continue to increase the number of acres they plant cover crops on and are experimenting with various cover crop mixes.

Anson, along with two other U.S. farmers, Dan Forgey and Tim Recker, formed a cover crops panel at the 6th World Congress on Conservation Agriculture in Winnipeg, Manitoba. The three farmers, who also participated in the High-Yield Conservation project supported by the Howard G. Buffett Foundation, shared the highs and lows of implementing cover crop strategies on their farms. The panel discussion was moderated by Charlene Finck, Farm Journal editor. 

Keeping an open mind. Unlike Anson, Tim Recker was happy with conventional farming practices and wasn't particularly interested in trying cover crops. He was, however, interested in trying to prevent nutrient runoff on the 1,700-acre Iowa farm he operates with his brother, Jim. That objective convinced the men to plant a mix of radishes and oats as a fall cover crop. They figured radishes and oats would scavenge any available nitrogen, and the oats would also provide cover in the spring to help hold the soil in place, two benefits that would also support their water quality efforts. The cover crops would winterkill and mostly decompose before spring planting.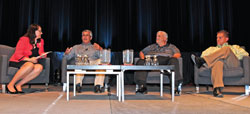 A farmer panel discussed their adoption of cover crops with Farm Journal's Charlene Finck during the 6th World Congress on Conservation Agriculture.

"I'm doing cover crops because of the long-term benefits in soil health, raising my organic matter and reducing erosion," says Recker, who is based near Arlington, Iowa. 

While Recker and Anson are fairly new to cover crop use, Dan Forgey saw value in putting them to work on Cronin Farms more than a decade ago. As the agronomy manager for the operation, based near Gettysburg, S.D., Forgey says the various mixes he employs break up soil compaction, build organic matter, suppress weeds, minimize disease development and improve soil water absorption.

While he's a huge proponent of cover crops, Forgey says they take time and patience to adopt—there are no shortcuts. "This isn't an overnight thing; it's a six, seven, 10-year deal to improve your soil health with cover crops," he contends. 

Along with that, Forgey says farmers must experiment to determine what cover crop or mix of crops works best on their land, as there are no successful one-crop-fits-all scenarios.
---
The 6th World Congress on Conservation Agriculture, held in late June in Canada, gave nearly 400 participants from 51 countries the opportunity to learn more about designing a conservation agriculture system. To read abstracts and presentations from the event, visit www.wcca6.org