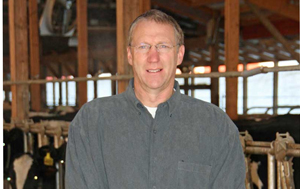 Terry Van Maanen
Rock Valley, Iowa
Haylage is a large part of my rations. No dry hay is used in our lactating cow ration. Consequently, putting haylage up right is critical (RFV 170, moisture 55% to 63%). First cutting we try to harvest in the late budstage before flowers bloom.
Harvesting forages is done with help from Dry Creek Dairy (Glen, Steve & Brian Rozeboom). They provide a packing tractor and two to three trucks. We provide the forage harvester and one truck. We should be able to harvest 350 acres of haylage in a day and a half. 
 
We have no alfalfa ground of our own. We purchase our haylage by the ton of dry matter. To preserve quality of haylage, we pack the pile well and cover it quickly. This year, we're going to try to tarp the side walls with plastic, lap the two walls together and put one more tarp over that. Using lots of tires is the other key to a good pile. With the price of feed, it is important to keep all of the haylage in excellent shape.
We purchase about 40% of our corn silage. Corn silage is purchased by the bushel. Yield checks or check strips are used to determine yields. Oxygen barrier and another tarp are put on corn silage to reduce spoilage and reduce labor by eliminating the need to pick off spoilage.
To cope with high feed costs, putting up feed right is only one part.  Other factors we should not forget are:  defacing bunkers to reduce feeding day-old feed; pushing up feed frequently; being aggressive in getting cows pregnant to reduce days in milk to keep cows in high production. Don't cut feed cost and then sacrifice milk production or reproduction. Remember, everyone is buying $6 corn! 
Van Maanen's May prices

| | |
| --- | --- |
| Milk (3.7% bf, 3.0% prt) | $18.53/cwt. |
| Cull cows  | $52cwt. |
| Springing heifers | $2,200/head |
| Alfalfa hay (milk cow quality) | $165/ton |
| Whole cottonseed   | $325/ton (Spot load) |
| Ground corn    | $220/ton |
---