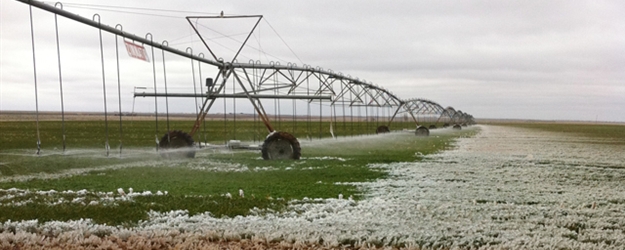 It's still much too early to predict when frost will hit. But farmers can still get a general sense of risk by using the Corn Growing Degree Day (GDD) decision support tool from Useful to Usable (U2U), USDA-funded research and extension project designed to arm farmers with climate-related decision tools.
"While we realize no one can predict the future, we can look at history to determine probable risk, obtain some idea of the variability and range of outcomes, and make decisions that we can live with," says Marilyn Thelen, agriculture systems educator at Michigan State University.
The tool puts current conditions into a 30-year historical perspective and offers trend projections (based on climatology) through the end of the calendar year. By blending GDD projections with historical data, farmers can get a clearer picture of their overall risk of still having crops in the field when the first frost arrives.
There are also several ways to customize the data, including:
• Choose GDD start date, freeze temperature threshold and corn maturity rating
• Compare with any individual year from 1981 to 2013
• Adjust the spread of historical GDD and temperature data that are visible on the graph
• Add or remove silking, black layer and freeze dates for a comprehensive growing-cycle snapshot
Dr. Linda Stalker Prokopy, associate professor at Purdue and U2U project director, says tools like this one are intended to make weather data more accessible and less intimidating for farmers.
"We'd like to think we are demystifying climate data one user at a time and hope producers will use the information to make better decisions and ultimately increase yields with minimal environmental impact," she says.
To access the tool, which is free and is updated daily, visit https://drinet.hubzero.org/groups/u2u/media.