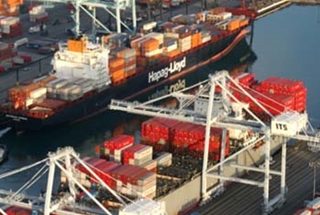 Russian President Vladimir Putin's decision to stop grain exports to rein in inflation will boost sales of wheat from the European Union and Ukraine, two political adversaries, an analyst said.
Putin's latest economic policy -- taxing exports to stem inflation fueled by his 2014 ban on EU imports -- will effectively end Russian grain sales, removing a competitor for European producers, said Shawn McCambridge, a grain industry analyst with Jefferies LLC in New York.
"Banning exports is the kiss of death" to customers who want reliable supplies, he said. "If the European Union has the quality, they'll be big beneficiaries of Russia's policy."
Agricultural forecasts are reflecting Russia's planned Feb. 1 imposition of duties on grain to reduce overseas shipments after the ruble plunged and food prices rose. Russia is the world's fourth-biggest shipper of wheat.
The U.S. Department of Agriculture on Jan. 12, citing the tariffs, increased its estimate for EU wheat shipments this year and lowered the Russia forecast for this marketing year. EU nations together are the biggest single shipper of grain, supplying Africa, Asia and the Middle East.
Ukraine also will benefit, the USDA said, and raised its estimate for the sixth-biggest wheat shipper. Ukraine is meeting with traders to discuss the pace of exports and has no intentions of imposing curbs, Agriculture Minister Oleksiy Pavlenko said this week in an interview.
Ukraine may be hindered in capitalizing on a fall in Russian exports, Vince Peterson, vice president of overseas operations for the trade group U.S. Wheat Associates, said in a telephone interview. Quality issues and the risk of rising food prices in Ukraine may discourage shippers from exporting, he said.
Russian food inflation jumped 44 percent in the year through November, in part because of an August ban on imports from the EU to retaliate against Putin for actions in Ukraine, including the annexation of Crimea and support for continuing conflict in the region.