Variable crops add confusion to an uncertain supply-and-demand picture
At 13.9 billion bushels, the corn crop estimate USDA published in August would be down 519 million bushels from last year's crop. Yet, it was around 700 million bushels higher than traders anticipated. That's a large miss that takes the wind out of bulls' sails. 
USDA's August crop estimate was driven by higher acres and yield. After resurveying 13 states, USDA estimated planted corn at 90 million acres (down just 1.7 million acres from its June estimate) and harvested acreage at 82 million acres (down 1.6 million from June). Both estimates were well above what traders expected. In addition, USDA's initial national average yield at 169.5 bu. per acre was up 3.5 bu. per acre from the July model-based projection.
Big changes on acres and yield from July resulted in just a 26-million-bushel increase in estimated crop size. Along with the bump in beginning stocks, total new-crop supplies are estimated up 46 million bushels from July but down 279 million bushels from 2018. Total use is expected to drop 100 million bushels from last year. That puts USDA's August ending stocks projection for the 2019/20 marketing year at nearly 2.2 billion bushels, down 179 million bushels from the old-crop marketing year, but higher than traders expected given crop struggles. At that level, ending stocks would stay comfortable into the new-crop marketing year.  
But the supply-and-demand story is far from over. Anything but an extended growing season would be disastrous for supply. If the national average yield would decline the 3.5 bu. per acre USDA added from July to August, assuming acreage doesn't change, it would shave about 300 million bushels off the crop. Not all that would come off carryover, but it shows how much movement could happen to supply. 
Note: USDA's August estimates were based primarily on farmer surveys and satellite imagery (not objective field samples by NASS). NASS will start field sampling in September and incorporate that data into its crop forecasts through the final estimate in January.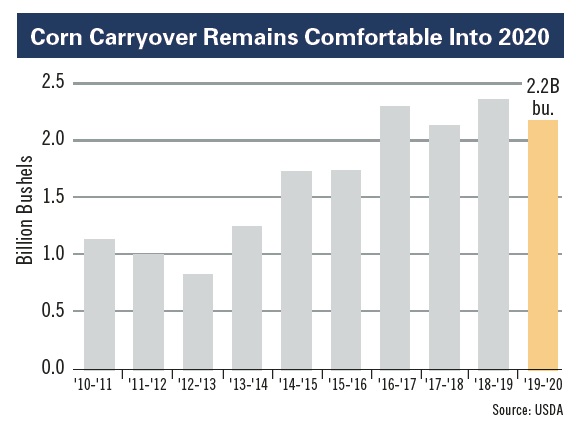 SOYBEAN WILD CARDS. USDA's soybean crop estimate at 3.7 billion bushels would be down 864 million bushels from 2018's record crop. The August forecast was 120 million bushels below what traders anticipated. After resurveying producers in 14 states, harvested acreage was cut 3.4 million acres from the June estimate to 75.9 million. USDA's national average yield estimate at 48.5 bu. per acre was in line with its model-based projection from July. 
New-crop soybean carryover dropped 40 million bushels from July to 755 million bushels based on USDA's cuts to estimated 2019 bean acres. The smaller crop was partially offset by the bigger beginning stocks, but total supplies are still estimated down 144 million bushels from July and down 228 million bushels from last year. USDA's total use projection was cut 104 million bushels from July but is still expected to rise 87 million bushels from 2018/19. 
The lateness of this year's soybean crop creates a lot of questions for harvested acreage and yield. The wild card on the demand side is exports. USDA forecasts only a modest 75-million-bushel increase in exports as the trade war with China is expected to continue into the new-crop marketing year. Soybean crush is projected to be record-large in 2019/20. Based on how these wild cards play out, soybean ending stocks for 2019/20 could vary widely from USDA's August forecasts.