Ron Rabou has found himself at several key crossroads in life. He wanted to be the fifth generation of his family farming in Albin, Wyo. But the family operation hadn't grown for decades, though more people were added, leaving families little to live on. Because of his courage to reimagine the family operation and success in doing so, he was named a 2019 Top Producer of The Year finalist.
Rabou knew he'd have to first make a career outside of farming. 
"I'm not the guy that just likes to be an isolationist and sit on a tractor in eastern Wyoming," he says. 
He was doing just that, when he returned home to help his dad wean calves. On that day in early November, Rabou's father collapsed and died. His father was 58 years old and Rabou was 26.
"I needed to buy his shares to get back into the family operation," he says.
It was clear the business model wasn't sustainable, and he was at a crossroad. He broke away from the family's traditional operations and the farm became a business, rather than an emotional heirloom.
"What we have done every step of the way has been extremely intentional, very methodical in the sense that everything we do and every decision we've made has a strategy behind it," he says.
In the past 14 years, Rabou Farms has grown from 800 acres to nearly 8,000 acres of organic wheat, lentils, millet, chick peas and yellow peas. He builds his business model and crop mix around the consumer.
"It's all about consumer demand, I won't even grow a crop unless I have a contract for it," he says. "We understand what the consumer demands are, then plant accordingly."
The Rabous have jumped into organic production and continue to build relationships with grain buyers. They have built competitive advantages with their production systems, all with the goal of becoming price makers, rather than price takers. 
The operation also includes 100 cow-calf pairs, as well as real estate and private big game hunts. 
Read the Top Producer feature on Ron Rabou: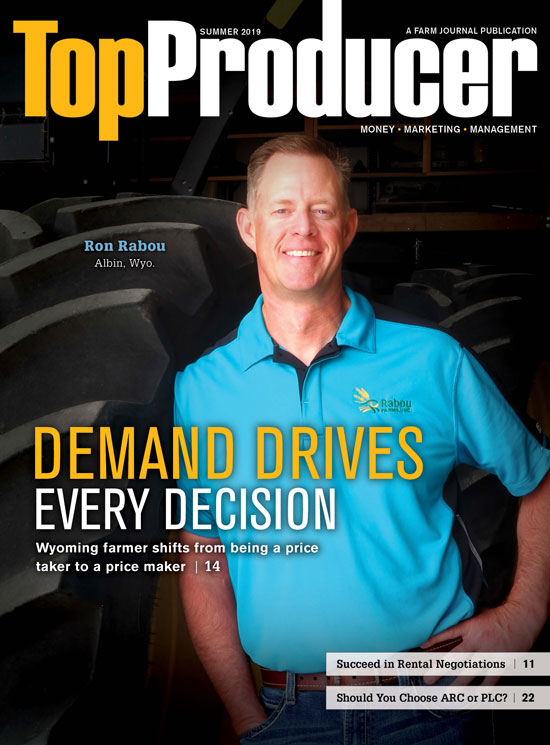 Learn about the other 2019 Top Producer of the Year honoree: 
Adams Family Farms Named 2019 Top Producer Of The Year Finalist
Jimmy Tosh Named 2019 Top Producer Of The Year