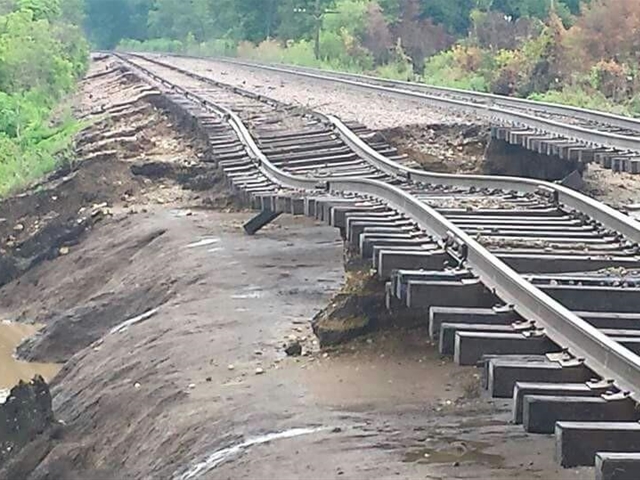 "Waiting three minutes for 110 train cars of oil to pass a rail crossing may just seem like one of life's inevitable little annoyances. But as these seemingly small irritations occur with ever-increasing frequency across the United States, they have become a hallmark of the strain that plagues America's entire freight system."
So begins a study from the American Farm Bureau Federation, authored by writer and grain analyst Elaine Kub.
The "seemingly small irritations" of rail inefficiencies pounded farmers' wallets last year, according to the study. That's because grain elevators in the Upper Midwest were faced with unusually high rail freight costs that were often $500 to $8,000 over tariff per rail car. That extra expense was often factored into basis values, meaning farmers absorbed the bulk of this cost – ranging from an estimated $0.14 to $2.28 per bushel.
"Due to the way that the grain markets work, it is almost always the farmer who ends up taking the loss in reality," Kub writes. "Grain companies don't ship grain unless the transaction is profitable, and end users can scale back demand if the final price creeps too high. Therefore, when freight costs rise, it is typically the farmer who loses money, compared to the price he [or she] could have received in a more efficient freight environment."
Although the exact losses can't be exactly calculated, the USDA estimates that overall farmer losses could have added up to as much as $570 million, or about 3% of total cash receipts. The study also provided examples of individual loss scenarios. For instance, if the average North Dakota farmer sold 60,000 bushels of corn, and transportation costs weakened basis by just 17 cents, that adds up to a $10,000 loss when compared to shipping grain in a more normal freight environment.
The study suggests that a bigger U.S. pipeline capacity would help ease current rail shipping burdens. The proposed Keystone XL pipeline, for example, would have a carrying capacity of 830,000 barrels of oil per day. That's the equivalent of 11 shuttle trains, five 15-barge tows or 4,053 trucks.
"American farmers depend upon rail freight to move their products to market," says AFBF chief economist Bob Young. "The surge in rail transportation of crude oil has affected that ability and timing in recent years. Construction of new pipelines would certainly be a more effective way to move that product to market. It would take crude oil off the rails, and in doing so, improve the overall efficiency of the transportation system."
In the meantime, farmers continue to be at the mercy of rail service providers  in certain regions, particularly in the Upper Midwest, Kub says.
"Insufficient service threatens the industry's ability to operate," she writes. "Expansion of U.S. pipeline capacity represents the best alternative to add overall freight system capacity and relieve the congestion that has threatened grain movement during recent marketing years."
Click here to read the complete AFBF study.