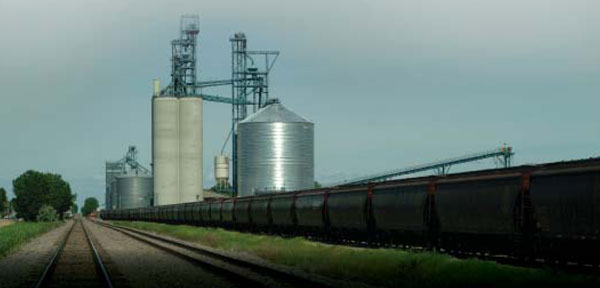 Producers in the northern reaches of the Corn Belt got hammered with basis levels about 40¢ to 80¢ wider than normal this spring, and conditions aren't normal yet. The most severe rail car shortage in history caused backups, sky-high leasing costs for cars and grain shipments that ground to a halt. Ultimately, farmers bore the cost in the form of lower grain prices.  

From late winter to early spring, it took one to two months for elevators to secure rail cars—three to four months at the extreme—as demand outstripped supply. The latest data from major shipper Burlington Northern Santa Fe (BNSF) show the wait has been reduced to 26 days. That's an improvement, but it's well above year-ago levels, when virtually no delays occurred, says Stu Letcher, executive vice president, North Dakota Grain Dealers Association.
---
Experts say multiple variables will affect future rail car availability. They include nationwide railroad downsizing, development of the Bakken oil fields in western North Dakota, a record 2013 grain harvest and higher demand from industries outside of agriculture.
---

Nationally, the shortage hurts U.S. competitiveness, he adds. As cars head north, Corn Belt ethanol plants, reliant on rail shipments, have curbed production.

"Unfortunately, we have experienced severe weather disruptions," wrote Carl Ice, CEO of BNSF, in a letter to the U.S. Surface Transportation Board. "Soft ground resulting from the last remaining deep frost thawing has led to track instability and subsequent service disruptions." Spring flooding compounded the problem by washing out tracks. 

A June 20 decision requires railroads to detail solutions. But the Surface Transportation Board says that though the two main shippers to the region—Burlington Northern and Canadian Pacific—indicate progress toward reducing grain car backlogs, officials are concerned by the limited time until harvest, the "large quantities of grain yet to be moved and the railroads' path toward meeting their commitments." 

Causes and Effects. In North Dakota, basis for corn, soybeans and spring wheat widened from about 40¢ to 80¢ this past winter and spring, compared to the benchmark year of 2009/10. That cost farmers an estimated $66.6 million in January and April alone, says Frayne Olson, ag economist from North Dakota State University. 

"The potential exists for additional losses unless the situation improves," Olson adds. The hit on basis resulted from delayed deliveries for pre-ordered rail and large premiums paid for rail cars in the secondary market.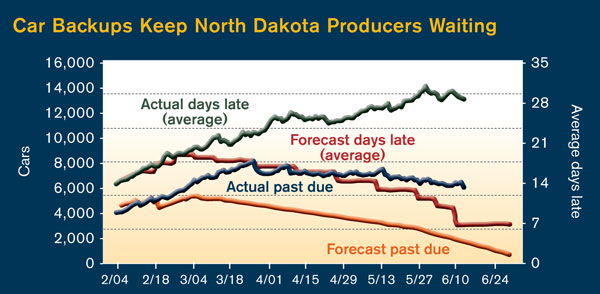 Delays in rail car deliveries have kept North Dakota farmers waiting weeks to move grain. Figures from Burlington Northern Santa Fe show rail car supply has not kept up with forecast delays. Meanwhile, Canadian laws requiring timely car delivery have lengthened northern U.S. waits for Canadian Pacific rail cars.