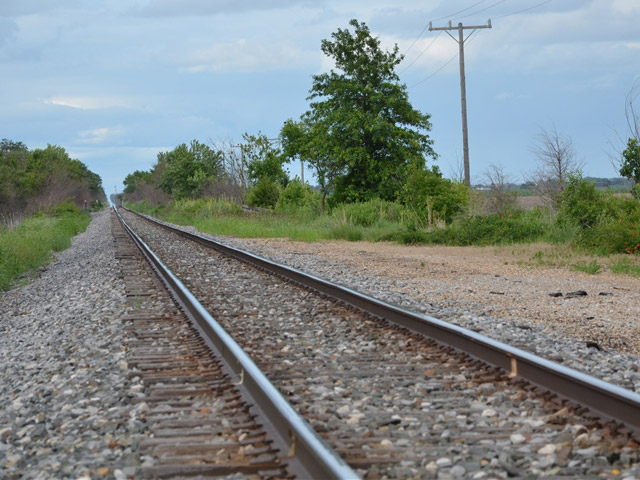 U.S. railroads are rallying customers, including lumber and steel executives, to fight a government safety proposal to slow trains hauling another commodity: crude oil.
More than a dozen companies and business groups, urged by railroads including Union Pacific Corp., are warning regulators that cutting speeds to 40 miles an hour from 50 would have a cascading effect, delaying other trains sharing the tracks carrying cargo such as furniture, grain and electronics.
"It would impact the whole rail system, is what it will do," said Will Higman, chief operating officer for Reliable Wholesale Lumber Inc., a family-owned business in Huntington Beach, California, with about 100 employees. Slower trains would add days to a two-week trip for wood from Canada, raising costs and frustrating customers, Higman said in an interview.
Regulators in the U.S. and Canada are considering rules to prevent accidents involving trains hauling crude oil, such as one that killed 47 people in Lac-Megantic, Quebec, last year. Carloads of crude surged 40-fold since 2008, which safety advocates say poses a risk to communities near the tracks.
In addition to new speed limits, proposals have been issued to require sturdier cars that are less prone to puncture.
Some tank-car makers and companies that lease the cars, including Trinity Industries Inc., have said the standards will cost more than regulators anticipate and will push more shipments onto trucks, increasing highway traffic.
Final Rules
Safety advocates say speed limits need to be reduced even lower than 40 mph and that other proposed regulations also are important to cut the risks of hauling crude. Former National Safety Transportation Board Chairman Jim Hall and Robert Chipkevich, a former member of the panel that investigates accidents, said the 40 mph limit is inadequate.
Tank cars ruptured in Pennsylvania, Ohio, Virginia and Colorado accidents even when trains were traveling at slower speeds, they said in written comments to the Transportation Department.
The agency is reviewing more than 1,000 comments submitted on the proposed standard. Final rules may be issued this year or in early 2015.
Regulators have to balance safety with mounting demands on the U.S. rail network, which hauls about 40 percent of all freight, such as vehicles, chemicals and commodities.
Grain Waiting
The harsh 2013-2014 winter clogged tracks, leading to delays that were exacerbated by the use of trains to move oil from states like Texas and North Dakota. In 2008, producers shipped fewer than 10,000 rail cars of crude oil. By 2013, the total exceeded 400,000, according to the industry.
Farmers in the upper Midwest have said some grain harvested this season is being left on the side of the tracks as trains move more crude from North Dakota's booming Bakken field.
The Surface Transportation Board, which regulates railroads, this month started requiring rail operators to submit weekly reports that show delays in the system.
"We need to find a balance between improving safety on the rails and reducing delays," said Senator Heidi Heitkamp, a North Dakota Democrat who has called on railroads to invest more to expand their networks.
Berkshire Hathaway Inc.'s BNSF rail line has said it plans to invest $400 million in the state to expand capacity.
'Key Piece'
As oil shipments rise, so do accidents. There were five each in 2013 and 2014, compared with none in 2010, according to the Transportation Department.
Speed restrictions are a "key piece of the puzzle in making crude by rail safer," said Matt Krogh, a campaign director for ForestEthics, a Seattle-based environmental group that argues the proposed rules don't go far enough in reducing the oil-train risks. "It's very simple, slower trains mean fewer derailments, fewer spills and fewer fires."
Regulators estimate that slowing trains to a maximum of 40 mph from 50 can reduce the severity of an accident by 36 percent.
The restrictions have drawn the ire of railroads. They're turning to their customers to help lobby the agency. Union Pacific, an Omaha, Nebraska-based railroad, warned in a letter that slowing crude oil trains would have "wide-felt reverberations throughout both our network and the entire national rail system."
'Reverberations' Widespread
Tom Lange, a spokesman for Union Pacific, said the company posted a letter to customers on its website last month because the speed restrictions could affect their service.
Higman at Reliable Wholesale Lumber included similar wording in his letter to regulators. Formosa Plastics Corp., a Taiwan-based company with a subsidiary in Livingston, New Jersey, also warned that proposed speed restrictions would have "wide-felt reverberations," as did Arkansas Steel Associations LLC, in Newport, Arkansas, and others.
Railroads have agreed to slow from 50 mph to 40 mph when carrying crude through cities known as High Urban Threat Areas. The designation covers more than three dozen communities, including Boston, Chicago, Dallas, Los Angeles, New York and Washington, accounting for about 2 percent of the track miles, according to the Transportation Department.
One option under consideration would slow trains with 20 or more cars filled with flammable liquids like oil or ethanol to 40 mph nationwide.
Costs, Benefits
Another would set that limit in cities of greater than 100,000 people, which would cover about 10 percent of the nation's rail lines.
Regulators acknowledge a cost: more than $2.6 billion for option one, and $240 million for the second option. That cost could be offset by as much as $636 million in benefits from fewer rail accidents, according to the Transportation Department.
The Association of American Railroads, a Washington-based lobbying group whose members include BNSF, said the proposed speed restrictions "could dramatically affect the fluidity of the railroad network and impose tremendous costs without providing offsetting safety benefits." They haven't offered a specific cost figure.
Fred Millar, a rail consultant who works with environmental groups, said U.S. regulations will probably fall short of providing sufficient safeguards.
"Are we going to get a significant reduction in speeds that would significantly impact the severity of accidents?" Millar said in an interview. "The signs are very, very gloomy."