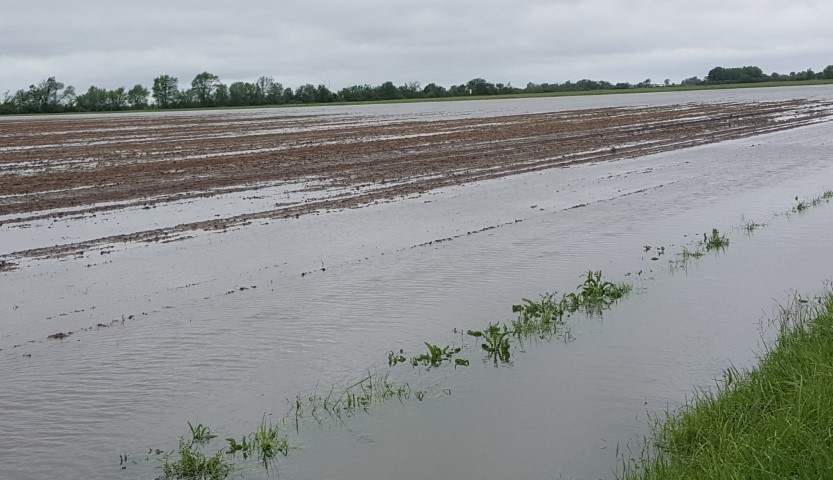 "It looks more like January, not April … certainly one for the record books."
That was Domenica Davis' take on Winter Storm Ursa, which plowed its way through the Plains this weekend, dropping heavy snow and wind along the way. The storm delivered up to 39" of snow in the Rockies, but even areas of Kansas, Nebraska, Oklahoma and Texas saw blizzard conditions and 9" to 18" of snow.
Meantime, the Midwest and Southern U.S. was dealt a deadly round of thunderstorms and tornadoes that killed at least 13 people and brought widespread flooding to those areas.
Flooding in southern Missouri was so bad that both directions of Interstate 44 were shut down over the weekend. Some areas of southern Missouri and northern Arkansas received 11" of rain. According to the National Weather Service, significant river flooding is occurring or imminent in significant areas of Missouri, Arkansas, Illinois and Indiana from now through May 5.
The inclement weather comes at a critical time in the crop season. A week ago, corn planting was 17% complete – basically even with the five-year average (18%). A year ago at this time, corn was 45% planted versus 30% for the five-year average. Will this weather cause a significant drag on this year's planting pace?
Meantime, farmers and others took to Twitter to document the weather they're currently dealing with.
#plant17 on hold in SW Nebraska pic.twitter.com/BATm8VvfnQ

— Dexter Lacey (@dexter_lacey) May 1, 2017
Just cruising Wolf Lake this morning... #plant17 pic.twitter.com/e6trCDZ2ki

— Jeremy Wolf (@jwolf7447) May 1, 2017
#ursa effect over - #plant17 is about 7% - varies from 0 -100% in nw/nc IA #isucrops. pic.twitter.com/cboaAndvqh

— Paul Kassel (@PaulKassel) May 1, 2017
Back home in Missouri this weekend. We were fortunate with a few inches of rain. 2 hours south received 10 inches of moisture. #plant17 pic.twitter.com/W4gfJwTZbR

— Tyne Morgan (@Tyne_Ag) May 1, 2017
Widespread moderate to major river flooding forecasted from Oklahoma to Indiana as a result of flooding rains #AGwx #Plant17 pic.twitter.com/Sa43T0LQNR

— Kirk ⚡ Hinz (@captain_kirk_wx) April 30, 2017
Heavy rain from the weekend are making this week a nail-biter for Arkansas #farmers. #plant17 #replant17 #aghttps://t.co/mYDZ4ob8Ii pic.twitter.com/isAr3YaKSQ

— Mary Hightower (@AgWriterArk) May 1, 2017
Wow. Ok, so this is noon on May 1st. I think #plant17 is #vacation17 pic.twitter.com/XhbOpBOe7D

— Mark Schniederjan (@mark_s163) May 1, 2017
Well this is supposed to be an intake!! Guess we're full. #plant17 on hold, 1.7 inches of rain. @iowa_corn pic.twitter.com/38Gdx5Z7Ty

— Kelly Nieuwenhuis (@NieuwenhuisSeed) May 1, 2017
Fields was planted into strip tilled wheat 10 days ago. Now has 3" crunchy snow cover. #corn ##plant17 pic.twitter.com/30qJPaw1oH

— Don Batie (@dbatie) May 1, 2017
#plant17not the way you want your corn crop to start out.flood waters still rising in s. VA pic.twitter.com/z0u6rNG7B5

— James Oliver (@jimoliverchann1) April 26, 2017