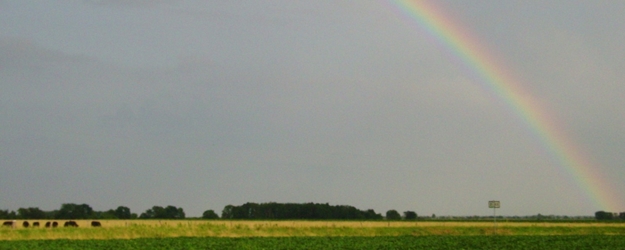 A slow-moving storm will start to develop over the West, according to USDA's agricultural weather highlights. Rain and high-elevation snow showers over the Sierra Nevada and Great Basin will shift eastward, reaching the central and southern Plains during the second half of the week. Five-day rainfall totals could reach 1 to 2 inches on the central and southern Plains.
In addition, the southern Plains' heat will be replaced by cooler weather, while much-needed warmth will overspread the northern Plains and upper Midwest.

The NWS 6- to 10-day outlook for May 25-29 calls for near- to above-normal temperatures and precipitation across most of the country. Cooler-than-normal conditions will be limited to parts of Texas and New Mexico, while drier-than-normal weather will be confined to the Great Basin and the Northwest.
Watch AgDay's weather forecast for May 20:


Regional Weather Updates

In the West, showers are affecting the Sierra Nevada and the northern Great Basin in conjunction with a developing storm. The precipitation, while beneficial, is not appreciably changing the bleak summer water supply outlook in areas that have already experienced 3 years of drought.

On the Plains, chilly conditions linger across parts of Montana and North Dakota, although dry weather is promoting a limited return to fieldwork. Meanwhile, hot, dry, breezy conditions persist on the drought-ravaged southern High Plains. On May 18, more than 40% of the rangeland and pastures were rated in very poor to poor conditions in Colorado, Kansas, Oklahoma, and Texas.

In the Corn Belt, rainfall is mostly confined to the Great Lakes region, where chilly conditions persist. Elsewhere in the Midwest, warmer, mostly dry weather favors fieldwork and summer crop emergence and growth.

In the South, dry weather and warmer conditions are promoting planting activities, winter wheat maturation, and summer crop emergence and development. On May 18, one-half to three-quarters of the pastures were rated in good to excellent condition in Arkansas and all Southeastern States east of the Mississippi River.

 
---
Related story: Heavy Rains Lessen Drought in Iowa, Nebraska
Check your forecast: View your weather conditions down to the field-level with AgWeb's Pinpoint Weather
---
Read and watch more Top Producer Power Hour news and videos.