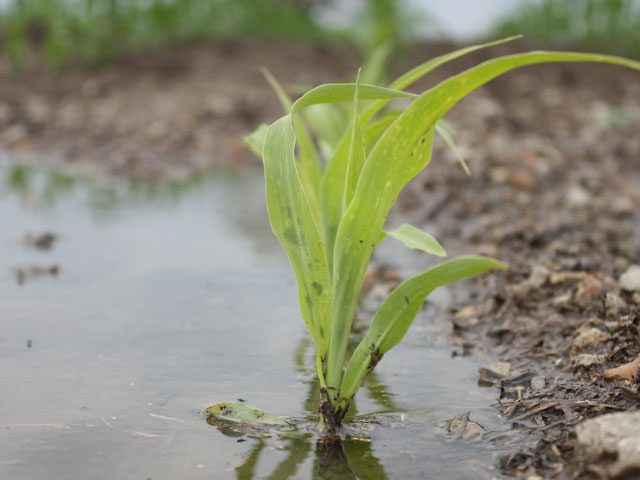 The recent rains that fell on Louisiana, Mississippi, and Arkansas likely wreaked more damage on fields still soggy from the torrential rains that fell in mid-March. Corn planting in the three states is well behind the five-year averages, and this week's rains will likely force some producers, particularly in Louisiana, to plant either cotton or soybeans.
Waterlogged in Louisiana
Prior to the rains that fell the last week of March, 40,000 to 50,000 acres of corn in Louisiana, about 10% of the state's total, were still underwater as of early this week, according to Dan Fromme, corn specialist with the Louisiana State University AgCenter. Fromme estimates that additional delays caused by this rain will likely mean that 100,000 to 150,000 acres of corn in Louisiana will not be planted or planted to other crops, mainly soybeans or cotton.
"The northern part of the state was hit the hardest," Fromme said. Parts of Louisiana received more than 20 inches of rain over several days in mid-March. As of late March, 36% of Louisiana's corn had been planted, which is well behind the state's five-year average of 60% for this time of year. 
"There has also been a tremendous amount of erosion," Fromme said. "Some acres might not even be planted this year if the erosion is too severe."
The window for corn planting closes on April 15 in Louisiana if producers want a shot at obtaining optimal yields. After that, Fromme notes that the yield potential drops by 1.7 bushels per acre per day through the end of April. Yield losses increase from there, he added. By contrast, soybeans and cotton can be planted until June 7 without losing yield.
Some Replanting Likely in Mississippi
Mississippi has also been hit hard. As of early this week, corn planting was only 5% complete compared to the state's five-year average of 29% for this time of year.
"We had frequent and large rainfall events in March that have delayed planting and all of the state is affected," said Erick Larson, grain specialist with Mississippi State University. "Most of the corn that was planted was in the south Delta, and all of those acres were affected. Most will be replanted to corn."
This week's rains are unlikely to harm the fields of corn that survived the mid-March rains because the seedlings have emerged, Larson said. He estimates that about 2% to 3% of the state's corn will eventually need to be replanted.
"At the latitude of Highway 82, irrigated corn can be replanted through April without significant yield reduction," Larson said.  "For dryland corn, the yield reduction is more substantial as you move through April, and about half of the state's corn is dryland."
Arkansas Fares Better
Moving east through the southern plains, rain totals have not been as dramatic as in Louisiana and Mississippi, but corn planting in Arkansas has also been delayed due to soggy fields. As of early this week, 8% of the state's corn had been planted, compared with a five-year average of 20%.
"We are planting corn everywhere in Arkansas, but the southeast corner of the state is the area that is behind," said Jason Kelley, corn specialist at the University of Arkansas. "We have another month to get corn into the ground before losing yield."
Even in the worst hit part of the Arkansas, Kelley says that a lot of fields were dry as of early this week, but that creeks have been slow to recede.
How is your planting season going? Send your photos and observations to AgWeb's Crop Comments section.