Cow herd expansion takes shape as producers look to cash in on robust consumer demand
Galen Fink expected prices for his purebred Angus and Charolais bulls to be good this past fall, but he was shocked by the reality. "It was exceptional," he says.

Fink Beef Genetics, Randolph, Kan., sold 340 bulls at auction for an average of $7,500 per head, nearly 35% higher than in 2013. 

Fink is far from alone in reaping the benefits from a cattle market that has bucked historic trends. Every class of cattle set new record price highs in every quarter of 2014—and the bull run is far from over. 

Market fundamentals are in place for a perfect storm. Much like the grain market price rally from 2009 to 2013, cattle producers are positioned to earn historic profits after a handful of dreadful years.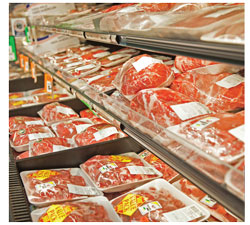 Cash fed cattle prices increased 26% in 2014, driving consumer retail beef prices to record levels, yet demand has remained robust. 
From 2011 to 2013, historic drought forced the liquidation of millions of cows, driving cattle inventory in the U.S. to 60-year lows. Texas was hit hardest. On Jan. 1, 2010, the state was home to 5.14 million beef cows. By Jan. 1, 2014, the number had dropped 24% to 3.91 million head. 

The total number of beef cows inthe U.S. sat at 29 million head on Jan. 1, 2014, with an all-cattle inventory of 87.7 million, the smallest since Harry Truman was president. Those short supplies produced roughly 24.4 billion pounds of beef in 2014, a 5.2% decline from 2013 and the smallest annual slaughter since 1994. Total steer and heifer slaughter in 2014 was projected to be the smallest since 1968. 

As the inventory of cattle dwindled, beef supplies shrank, driving cash cattle prices—and ultimately retail beef prices—much higher.

"A year ago, we saw the declining inventory was going to produce higher prices," says Randy Blach,CattleFax president. "But the market was higher than we thought. The magnitude of the price rally was shocking."

At the end of 2014, cash fed cattle prices were 26% higher than a year earlier, and feeder cattle prices were 45% higher than at the end of 2013.

Economists are always wary about predicting higher prices. Yet few hesitate to call 2015 another banner year.

The forecasts revolve around forage supplies, grain prices and beef supplies. Those ingredients are in the pot, ready to cook up more cowboy profits.

"In 2012, we had the worst grazing conditions in 20 years," Blach says. Depending on the region you operate in, excluding California and the West where drought continues, he says 2014 produced the "first, second or third best grazing conditions. Green grass and profitability go hand-in-hand."
Improved forage conditions coupled with healthy profits are why Blach and other analysts say herd expansion is underway. 

Corn prices will remain manageable for cattlemen, Blach says, after a 14.4 billion bushel corn crop reduced feed grain prices 50% in 2014. He expects corn to trade from $3 per bushel to $4.50 per bushel.

While forage and grain supplies are favorable, declining beef supplies have become a double-edge sword. Cattle prices have spiked on short supplies but so have retail beef prices.

Cattle slaughter decreased 5% to 6% during 2014, with cow slaughter down nearly 18% from the previous year. Next year, slaughter will shrink another 1.5% to 2.5%, resulting in a decrease in beef supplies of 1% to 2%.

"Steer and heifer slaughter is expected to decrease another 2% in 2015 which, depending on carcass weights, would contribute to another 1% to 1.5% decrease in total beef production," says Derrell Peel, Oklahoma State University livestock marketing specialist. 
Smaller supplies sparked a rally in 2014 that fattened cowboy wallets. But the resulting increase in retail beef prices could be worrisome. In U.S. retail stores, the Beef Retail Price Composite was $5.62 per pound in October, a new record, according to USDA's Economic Research Service. Retail ground beef prices averaged $4.15 per pound, also a new record.

As retail prices rose, many worried consumers would begin resisting beef. Such worries have not materialized.

"The October All-Fresh beef real per capita expenditures were 14% higher than one year ago," according to Steve Meyer and Len Steiner in The Daily Livestock Report. "Extremely strong beef prices are the key indicator of stronger beef demand, and they show little sign of weakening."

While retail prices support ideas of strong demand, so do changes in beef products in the meat case. 

"We're experiencing a different beef complex today than we saw 10 or 20 years ago," says John Nalivka, economist and president of Sterling Marketing, Vale, Ore. "The big packers are global companies, and they operate differently than they did before. We're seeing a shift away from packers marketing commodity beef to the marketing of value-added products."

Nalivka refers to the further processing packers use to market hamburger patties rather than ground beef and value-added cuts, such as flat iron steaks rather than chuck roasts.

"The trim complex in a packing plant is now a profit center rather than a commodity bin," Nalivka says.

Packers and retailers wish to build consumer demand and U.S. exports. 

"The fundamentals are shaping up to make next year exceptional," Nalivka says. "Feed costs are low, forage supplies are greatly improved and demand is strong."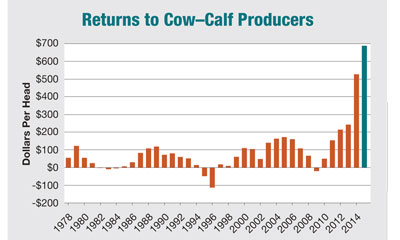 Cow-calf profits increased 125% in 2014 on a cash basis from the previous year. John Nalivka, economist and president of Sterling Marketing, Vale, Ore., projects profits will jump another 33% in 2015 to $743 per cow.