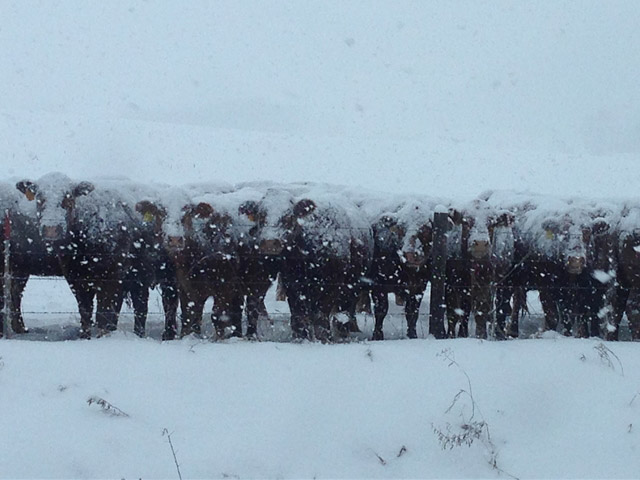 It's been one year since an early snowstorm in western South Dakota killed over 40,000 head of livestock. A majority of the operations found a way to scrape by following the horrific storm, but it hasn't been easy.

"It was very disheartening and a lot of stress, you'd say. I do take good care of my cattle and expect to take care of them. When there's loss like that, you feel like it's your fault," said rancher Philip Kruse.
Watch the full AgDay report:
Last October, when a blizzard raged through the northern Plains, Kruse wasn't where he is now. The Interior, S.D., rancher was miles from his livestock, trapped in Wyoming.

"The road was closed but I came anyway. I had to dodge electric lines that were down. We started seeing quite a few dead cattle on the way home. We were wondering what the situation was back home," said Kruse.

Two days later and across hundreds of miles, Kruse was home. At first, it looked like his cattle might be OK.

"I didn't think I lost many because there were so many cattle on the place. We got to looking and they weren't my cattle. They were neighbor cattle. They had drifted 15 miles away," said Kruse.

His cattle—more than 60 of them expecting momma cows—traveled through a nearby ravine, escaping wind and snow.

"There were about three or four alive in this valley when I got home," Kruse said. "We tried to save them. Every one we pulled down into the shed and worked with, they all died. There was no saving them."

Surprisingly, the ones that did survive did something he's never seen before. Some cows made their way inside his home, to be discovered by Kruse's wife.

"She found six cows inside the house. Of course, we opened the door and let them out. They were kind of thirsty, but they were fine," said Kruse.

After some cleaning inside and out, half of his herd was hauled away.

"They got 123 head, and just hauled them all away," said Kruse.

Kruse knew he needed income fast.

"I rebuilt right away. I didn't wait. I just took my own money out of savings and went. I knew if I didn't have any pregnant cows, I wouldn't have calves this spring," said Kruse.

Rebuilding has been anything but easy.

"It's a hard time to buy. You want to be selling instead of buying. You don't want to buy at the high and sell at the low. It don't work," said Kruse.

Despite the constant struggle to rebuild, he's received some help.

"A neighbor gave me a heifer calf and another neighbor gave a young bull. Some gave cash. I was amazed by the generosity in our community," said Kruse.

Months later, the federal farm bill kicked in.

Whether it was the relief or his resilience, Kruse is continuing on. He's hoping his backyard in the Badlands never has to relive that October again.