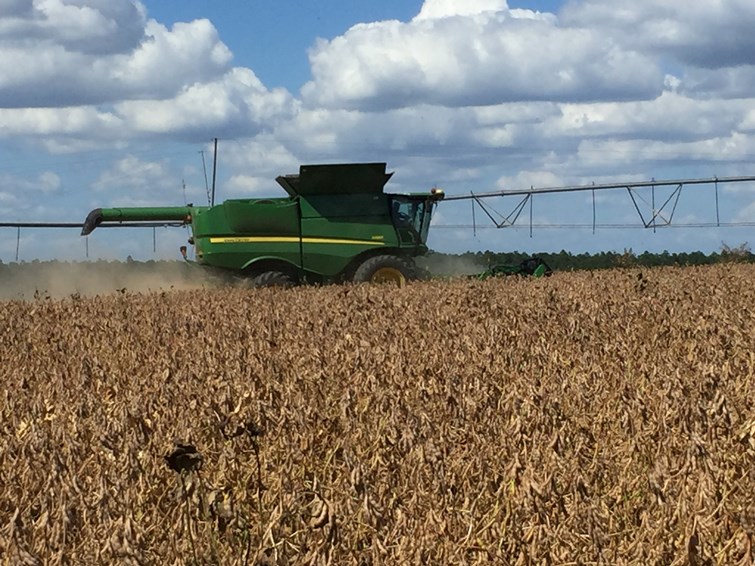 Even after post-mortem browning, the stand was tall enough for a child to slip into and disappear. In the fields of Brooks County in southern Georgia, firmly wedged in the belly of the Deep South, full-season soybeans are typically 2'-3' high after desiccation. Randy Dowdy's stand was a bold 4' tall and whispered at extraordinary yields, with three gravid stalks carrying pods from top to bottom. Dowdy was about to fire a shot heard round the soybean world, a 171 bu. per acre volley aimed at the heart of nutrient management.
Over a three-year span, Dowdy has dug up the nutrient secrets of his soil, focusing on high baseline soil fertility, early production and aggressive management. Dowdy shattered soybean records in 2016 after a 171.7 bu. per acre yield on 15" rows with a UniSouth Genetics 74A74 variety in the Georgia Soybean Production Contest, passing the 160.6 mark set by Missouri's Kip Cullers in 2010. Post-harvest yield monitor analyses also revealed that Pioneer variety P47T36R grown in a separate Dowdy field and harvested several days later may have produced even higher yields.
Prior to big soybean numbers, Dowdy's name was synonymous with massive corn yields and a 503 bu. per acre benchmark. Possessed by the insatiable drive of a crop gumshoe, he doesn't hide his management numbers, maintains a website (growbigcorn.com) and is eager to trade growing techniques. With favorable weather blanketing his fields in 2016, Dowdy's corn output is again exceptional, with four separate AgriGold varieties each significantly surpassing the 450 bu. per acre mark in the NCGA National Corn Yield Contest.
Dowdy is a disciple of the Law of the Minimum: One weak nutrient to rule them all. Yield is limited by the least available nutrient, he says, akin to the weakest muscle of a bodybuilder.
"The Law of the Minimum applies to all areas of my farm," Dowdy explains. "Herbicides, timing, disease, water, plant stand, and every other endless variable."
Layering data from multiple seasons, Dowdy is in a constant building process. In 2014, his first year in the soybean contest, he hit 116 bu. per acre, and 90 bu. across an overall 60-acre field. In 2015, he reached 140 bu. per acre and 103 bu. over an 80-acre field. And in 2016? A maturity group IV soybean yielded 171.8 bu. per acre on a 3-acre block and a 140 bu. field average across 70 acres.
Dowdy farms 2,000 acres of sandy loam on rolling terrain and his growing region is highly susceptible to root-knot nematode. In the fall, Dowdy applies a soil fumigant gas (Telone II) 15" deep with a subsoiler to fight the pathogens. Two weeks after application (at a hefty $100 per acre) the nematodes are eradicated and he follows with a cover crop to crank up microbial activity.
His planting population ranges from 140,000 to 160,000 and results in stands of 110,000 to 150,000. At 110,000, the stands are heavy with copious amounts of lateral branching. However, the key is attaining lateral branching at high populations, he says, which the 150,000 stands lack: "We're trying to strike a balance and it's just one more thing to learn."
Prior to planting, Dowdy puts tremendous stock in seed treatments, and used Renwood Farms' RenPro Plus on the contest field.
"More plants came up, and more importantly, there was a uniform stand at emergence," he says. "It's a no-brainer. I don't mind paying premium costs on treatments if they consistently show bushels."
Bushels, indeed. The field had multiple spots with yields ranging between 227-250 bu. per acre. Yet, only 100' away, yields dropped to 100 bu. per acre, a discrepancy that drives Dowdy to uncover the variability sources. In an effort to track fertility, he tissue samples weekly and soil samples those same locations multiple times in the year. When he rings the yield bell, as he did in 2016, the nutrient content numbers tell the tale.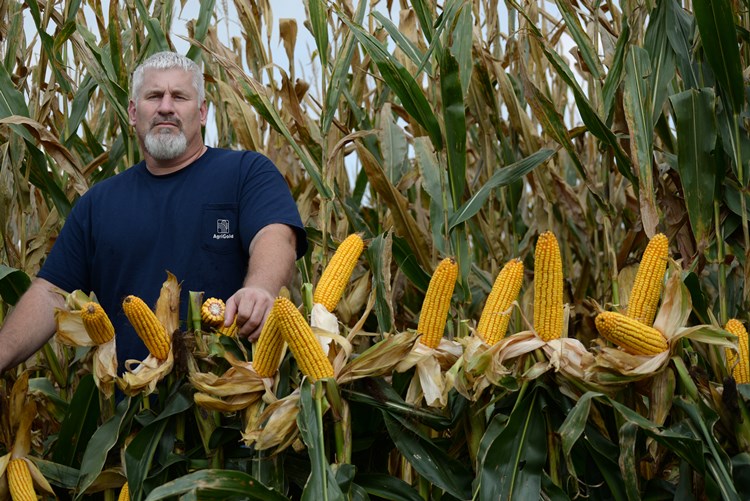 Dowdy's nutrition starts with preseason poultry litter. Up front, he adds muriate of potash, and later fertigates with in-season potash, nitrogen and sulfur. Dowdy also applies a mix of foliar products from Brandt and Genesis Ag to match nutrient needs based on historical data and tissue samples.
Dan Poston covers the Southeastern U.S. (13 states) as an agronomy research manager for DuPont Pioneer, and helps Dowdy design experiments and analyze data. Dowdy's soybean success begins with high baseline soil fertility: A high concentration of nutrients in the soil profile in ratios balanced enough to facilitate uptake of macronutrients. Coupled with high baseline fertility, Dowdy implements a proactive plan to supplement both macro- and micronutrients during the growing season to address periods of peak demand. "Peak demand must be anticipated and nutrients applied well in advance of the soybean plant actually needing the large nutrient load," stresses Poston.
Another key to Dowdy's high yield is the adoption of an early soybean production system with indeterminate varieties, a change of paradigm in the Deep South which has traditionally utilized a later planting system with later maturing varieties. (Poston also points out the inherent risks of early planting, and says growers can get in a quick pinch due to heat, seed deterioration and root-knot nematode.)
Overall, meeting plant nutritional needs and early production, combined with aggressive insect and weed management, make for a strong soybean recipe on Dowdy's operation, according to Poston.
"Randy is willing to make applications on time and spend on inputs as needed, just to learn what drives yield," Poston explains. "Cost-effectiveness isn't his driver on small acreage because he wants to understand yield and spread the knowledge to bigger acreage."
Dowdy runs center pivot irrigation systems equipped with injection pumps and also has a small amount of drip tape. During grain fill, he makes sure soybeans get 3" inches of water per week. He's trialing canopy sensors to measure the effects of 8 p.m. to 8 a.m. irrigation to keep plants cool and rested during 80 F nights.
Soil moisture probes and ion sensors are placed at multiple locations on Dowdy's farm, measuring water and ion availability. As nutrients move through the profile, the salt index registers on the soil moisture probes. Rising ion levels reflect salt movement in the profile, an indication of fertilizer movement.
"We can see what's going on in the root zone," he says. "We also use fertigation to meet in-season needs to capture the greatest yield potential we can."
Weeds are a persistent battle for Dowdy. He planted triticale as a cover crop to fight Palmer in 2016, and believes the sheer density of the cover adversely affected final stand counts. Despite Valor, Reflex, Dual and Roundup, he still consistently chases escapes and has to absorb the persistent high costs of hand weeding: "Resistant pigweed is forcing us to make changes and that may mean switching to Liberty or dicamba beans."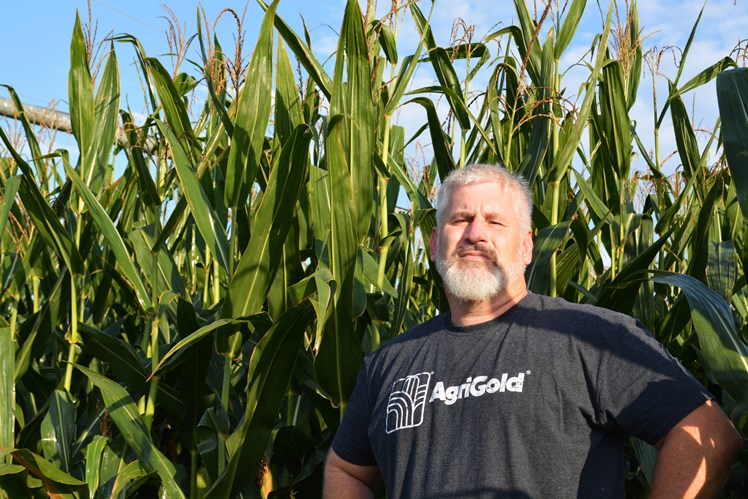 As Dowdy's 2016 soybean crop developed into late June, he suspected yields might be special based on the top sections of pod counts. By late August, the field was almost ready and Ben Shirley, University of Georgia Extension agent for Brooks County, knew the crop was outstanding. "The height of the beans jumped out. No big stems, pod-heavy, three stalks just loaded," he says.
On Aug. 28, Dowdy began cutting and placed a load of soybeans on the weigh wagon, intending to calibrate his yield monitor with the scales. But the scales were off, 20% too light, and Dowdy had no clue as he kept cutting. Strong numbers were popping on Dowdy's yield monitor, but due to the miscalibration, nothing at a record level. Shirley, as the officiating agent, accompanied the soybean load to a certified scale location, and got a shock when the figures exploded. He was staring down the barrel of a world record yield.
"The totals scared me," Shirley recalls. "I double checked them and there was no doubt."
He went back to the field and told Dowdy the weigh wagon was wildly off the mark.
"How bad is it?" Dowdy asked with frustration mounting.
"10,000 lb. The beans are awesome," Shirley replied.
Anxious to bank the data and use it to help crack the soil code, Dowdy is determined to learn what caused yield discrepancies across the field. "I want to use all the accumulated data I've been gathering to repeat these yields again next year," he says.
Overall in 2016, Dowdy's soybean crop cost $7.95 per bushel, including $250 land rent, aerial applications, drying and handling, fertilizer, fungicides, fuel, ground rig applications, harvesting, hauling, herbicides, insecticides, irrigation, planting expense, revenue protection, seed and seed treatments. "We spent too much money, but sold the beans at an average of $10.50. We're in the black."
Despite recognition and accolades, Dowdy insists his yield success is a collaborative effort of coworkers, mentors, and industry professionals. "All these people put sweat equity into my fields, and provided intellectual property and many resources," he says. Ultimately, he attributes success to providence: "I'm responsible to be the author of my crop production, but make no mistake, God is the finisher and I'm so thankful."
As the consummate student of the crop, Dowdy is trying to learn precisely what he's done right and wrong after each season, picking apart the whys and hows.
"It all goes back to the fact that yield is capped by plant stress and quite often, the most limiting nutrient," he says. "This is a never-ending building process so I can keep pumping the yield data back into my fields. Learn and learn more. I'm not afraid to try anything, but in the end, it's got to make money."