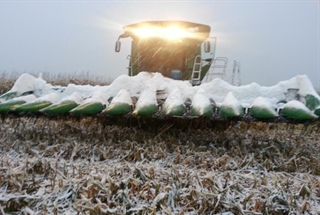 The winter desk at the U.S. Weather Prediction Center is open for business.
Operations at the College Park, Maryland, center began on the overnight shift Sept. 14, a week before the official end of summer, according to a post on the agency's Facebook page.
While commuters in the Midwest and Northeast may dread the prospect of snow falling again in just a few months, there are a lot of people around who are hoping for snow, and that doesn't mean just skiers.
The white stuff is gold for farmers in California and hydroelectric power stations in the Pacific Northwest.
As of now, snow cover in the contiguous U.S. adds up to about zero, said Carrie Olheiser of the National Operational Hydrologic Remote Sensing Center in Chanhassen, Minnesota. There isn't much in the parts of Canada the center watches quite closely, either. However, it's important to note that the agency hasn't sent out planes this week looking for snow, which it does when things start to pile up.
The sensing center, an arm of the National Weather Service, keeps its website up to date all year, although it will ramp up its operations on Oct. 1, the start of the meteorological "water year."
California receives 75 percent of its rainfall from November to March and 50 percent from December to February, according to the state Water Resources Department.
Capturing Water
 In other words, most of the water that California uses in the spring and summer to grow crops, water the lawns and hydrate people and livestock comes in the winter. This means it needs to be captured in reservoirs as it falls or it has to come as snow.
"Historically in California, 70 percent of our water storage has been in snowpack," Paul Wenger, president of the California Farm Bureau Federation and an almond grower in Modesto, said in a June interview. "Rain doesn't necessarily help you do that long-term recharge that you need. In the Sierra Nevada, snow is money in the bank because it's stored up there and it releases slowly. Snow is so important to California it cannot be over-emphasized."
California is currently in the midst of one of its worst droughts in the modern record.
This year, the value of snow may be much higher, because if an El Nino forms in the Pacific Ocean it probably will move the typical U.S. storm track farther to the south. All but two of California's major reservoirs are in the central or northern part of the state, according to the Water Resources Department.
Hydroelectric power generation in the Pacific Northwest actually rises and falls on when the melting snow in the mountains fills river and streams, according to the U.S. Energy Information Administration.