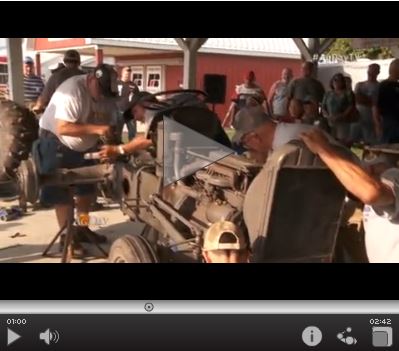 How fast would it take you to rebuild an entire tractor? One group travels the country, doing just that with antiques. The Ferguson Enthusiasts of America met in La Grange, Indiana. It wasn't just to share the love of their favorite brand, but to roll up their sleeves and attempt to rebuild the tractor like it was the first time.
The clock is ticking. The pressure is on. As a handful of men compete against time to put together a Ferguson Tractor as fast as they can.
"Oh when I'm done with my little tricks here it will be 14 minutes and 47 seconds," says Feeding Hills, Massachusetts resident, Tony D'Ambrosio.
"We're expecting 32 minutes," says Goshen, Ohio resident, Jeff Miller.
"[We want] 30 minutes or less. We are trying for that," says Hamlin, Indiana resident, Brian Schultz.
In front of a crowd and a judging team, the group is putting their wrenches to work, making a bare 1948 Ferguson Tractor whole again. It's about carefully placing every axel and even the radiator where it was before when it came down the assembly line.
"I don't know any other manufacturer that does this in part because Ferguson tractors were designed with simplicity in and mind and so even the local farmer can do the same work on it," says Osceola, Indiana resident, Brent Holaway.
There's no doubt it's all about the comradery, but it's meant to be a learning experience for future farmers.
"The idea is to show people how the tractors would go together and how simple they are to work on to get people interested in the hobby of antique machinery," says tractor owner and Ferguson Enthusiasts member, Jeff Miller.
Even the veterans can benefit.
"I got some at home and I need to know how to take them apart and put them back together," says Schultz.
They say the strategy is simple.
"Get the right part in at the right time," says Schultz.
No matter how long it takes, it isn't completed until the engine turns.
"At the end it will start, it will roll, the hydraulic lift will pick up and roll down," says D'Ambrosio.
This time, the mean machine started just under 23 minutes.
For some, it's putting a time limit on a hobby.
"We've pulled it apart about seventeen times already," says Miller.
For others, it's reliving a memory.
"I sat on this tractor when I was three, pretending I was driving it," says Schultz.
Because some just prefer the build of an old tractor.
"Oh there's just so much plastic in a new tractor," jokes Schultz.