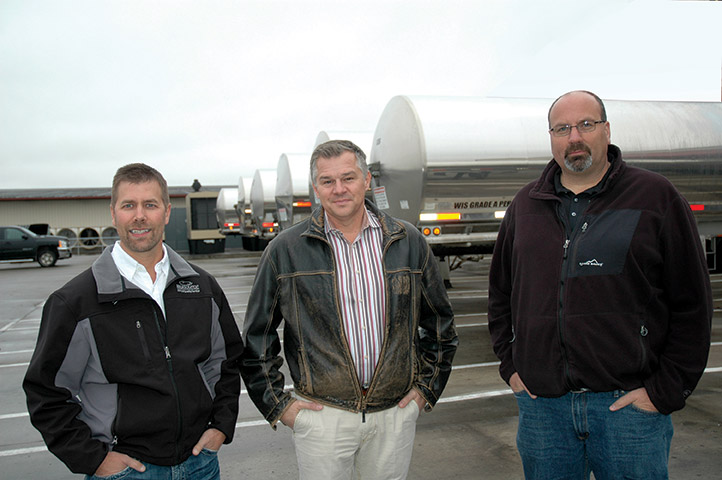 What if you could reclaim 75% of manure liquids back to potable water, allowing you to use it to flush floors, water cattle or irrigate crops? That's the hope of new manure management technology on Milk Source's 3,400-cow dairy Hudson Dairy in Michigan. The technology is provided by Livestock Water Recycling (LWR), a company based in Calgary, Alberta.

Milk Source, which operates four large dairies in Wisconsin, recently renovated Hudson Dairy with new sand-bedded freestalls, a new double-50 parallel parlor from GEA and the new manure system.

Manure from the six-row freestall barns is scraped into a cross flume, where it is flushed into a sand washing system to separate (and reclaim) sand for bedding. Fibrous manure solids are separated out, and the manure enters the LWR system. Suspended solids are precipitated out and the remaining liquid is forced through a reverse osmosis system to remove any remaining manure constituents. The result of the
entire process in drinkable, potable water.

"I believe the technology is sound," says Jim Ostrom, one of three Milk Source partners. "It's just a matter of economics and whether we can manage the variables enough to keep it operating on a daily basis. The system is a sizable investment for us, but it has large potential to protect the environment."
The capital cost for the system is about $500 per cow, totaling more than $1.5 million for the installation, says Ross Thurston, CEO of LWR.

While a large investment, it is workable when the total investment in a dairy, including the cow, can run close to $10,000, Ostrom says. He estimates operating costs to be about 1¢ per gallon of manure, or roughly $100 per cow per year less than the $150 to $200 per cow per year for conventional methods.

Another benefit is thousands of fewer manure tanker trips each fall and spring. Plus, the dairy will need just one-fourth the manure storage capacity, greatly reducing odor.