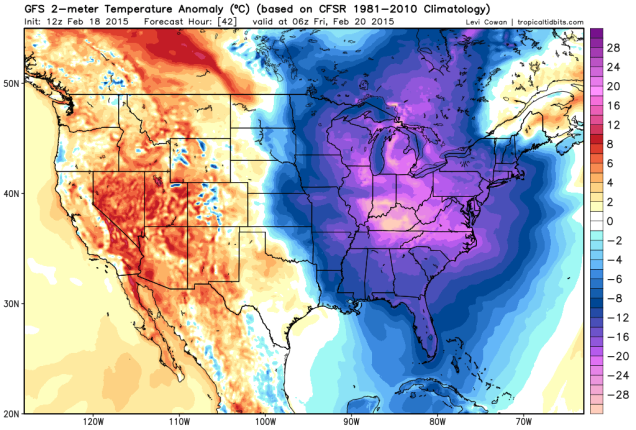 If you live in the eastern half of the United States, it's time to brace for potentially record-breaking cold tonight. Daily record lows were already set in several cities this morning, with dozens more to come Friday and into the weekend, The Weather Channel reports.
Thursday morning saw lows in the single digits recorded as far south as Georgia, with many areas experiencing temperatures that were about 40 degrees below average for mid-February. Daily record lows for Thursday were scattered across the eastern half of the nation in cities such as Chicago, Louisville, Paducah, Nashville, Cincinnati and Asheville, N.C.
Heading into the weekend, Below-average temperatures will continue in much of the Midwest and Northeast. Weather Channel forecasts show more than a dozen locations in the Northeast and Mid-Atlantic that could tally new daily record lows on Saturday morning.
AccuWeather forecasters are calling the current weather "dangerously cold for a lot of people." And once temperatures rise, it could bring with it more wintry weather, says AccuWeather forecaster Brian Lada.
"The core of the cold weather is expected to shift away from the Northeast and Midwest heading into the weekend, allowing temperatures to moderate," he says. "However, that rise in temperature will be accompanied by a far-reaching storm with wintry precipitation."
How is your winter progressing so far? Share your comments on the "Winter 2014-15" AgWeb discussion thread.