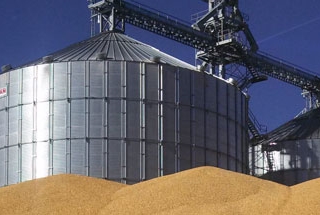 The record U.S. corn and soybean harvest this year has farmers wondering where they're going to put it all.
The anticipated 18.3 billion bushels of the two commodities is sure to overwhelm farmers' storage silos capable of holding only 13 billion bushels, the U.S. Agriculture Department estimates. That means growers will have to sell crops early rather than wait for higher prices, a boon to processors from Archer-Daniels-Midland Co. to Bunge Ltd.
"There's a lot of new storage capacity, but this year it won't be enough," said Tony Hays. The 60-year-old corn and hog grower in Monroe City, Missouri, added a pair of metal holding rings at his farm this year, about 105 feet across (32 meters) and four feet tall that can hold 160,000 bushels.
While a glut of grain is typical at harvest time, near- perfect growing conditions mean this year's shortfall in storage is likely to be the biggest since 2010, even after farmers boosted capacity to a 25-year high. That means farmers may miss out on higher prices -- if they could hold onto corn until May 2015, they would get 6 percent more, or or 20.5 cents a bushel, over deliveries in December 2014, futures markets show.
The bumper crop will boost profit for big agriculture companies, according to Ken Zaslow, a BMO Capital Markets analyst. The basis, the difference between local cash prices and futures for the month closest to delivery, has weakened in the southern U.S., where the harvest has already started. A weaker basis, which means cash prices are below futures, is positive for agribusinesses.
Overburdened Storage
"The upcoming large corn crop likely will overburden on- farm storage capacity and force farmers to sell at a significantly lower basis," Zaslow said in a Sept. 8 report.
For corn delivered this month, ADM has been offering an average of 20.44 cents more than futures in Cedar Rapids, Iowa, according to data compiled by Bloomberg. That's the lowest average corn basis bid since 2011, and is 77 percent less than a year ago.
U.S. farmers had more negotiating power last year after the 2012 drought lowered inventories and they increased capacity in silos. That helped reduce fourth-quarter profit 21 percent to $201 million in ADM's agricultural services segment, which buys and stores crops.
The lack of storage this year will benefit ADM, the world's largest corn processor, as well as grain handlers including Andersons Inc. and Green Plains Inc., according to Farha Aslam, a New York-based analyst for Stephens Inc. The ADM unit's pretax profit may increase 36 percent to $1.06 billion in 2015, in part because of the lower basis at harvest and better utilization of ADM's storage and infrastructure.
'Piles' of Corn
"There are anticipated to be piles of corn across the Midwest," Aslam said in an interview. "More grain competing for limited amount of storage means that grain companies will be able to bid lower at harvest."
The National Corn Index of more than 1,800 cash bids fell 23 percent to $3.1686 a bushel on Sept. 16 from a year earlier, the lowest for the date since 2009, according to data from the Minneapolis Grain Exchange.
ADM plans to keep its elevators open longer to help manage the crop, Joe Taets, president of the Chicago-based company's agricultural services unit, said in a telephone interview.
The company has worked to "debottleneck" facilities by adding more bays for trucks, increasing staffing and even installing larger conveyor belts, he said. In the past few years ADM also has added storage capacity, which hasn't been fully used until this year, he said.
'High Utilization'
"We expect pretty high utilization," Taets said. "We are well positioned to manage this harvest."
ADM and Bunge declined to comment on how lack of storage may affect pricing and profit.
The size of the harvest is creating a so-called carry, an incentive to store grain now and sell when prices are better. March corn futures are trading at a 12-cent premium to December corn and March soybean futures are at a 16.75-cent premium to November futures, data from the Chicago Board of Trade show.
Total U.S. grain storage capacity on farms, commercial elevators, mills and ethanol plants rose 20 percent in the past decade to 23.4 billion bushels as of Dec. 1, USDA data show. Production and inventories will exceed permanent storage capacity by 694 million bushels. That will be about 3.5 percent of the record U.S. harvest this year, equal to 173,500 jumbo covered hopper rail cars.
'Race for Space'
Farmers are still seeking more space to stash their grain.
TopFlight Grain Cooperative Inc. in Monticello, Illinois has boosted grain storage capacity by 2 million bushels in the past year to 33.5 million bushels and ordered tarps to store as much as 4 million bushels on the ground this year, the first time since 2009, said its general manager Scott Docherty.
Grain-storage manufacturers Sukup Manufacturing Co., Agco Corp.'s GSI unit and Brock Grain Systems, a unit of Berkshire Hathaway Inc.'s CTB Inc., said demand from farmers has increased and lead times are longer.
"We have seen a big pick up in the last couple of months," Hans Lehmann, general manager in North America of Agco Corp.'s GSI grain storage unit in Assumption, Illinois, said in a telephone interview on Sept. 2.
Elevators are planning to use larger bunkers and older facilities for excess supplies and may rent temporary storage spaces, Dan Kowalski, an agricultural economist at CoBank ACB, a Greenwood Village, Colorado-based cooperative bank.
"It's going to be a race for space," Kowalski said.