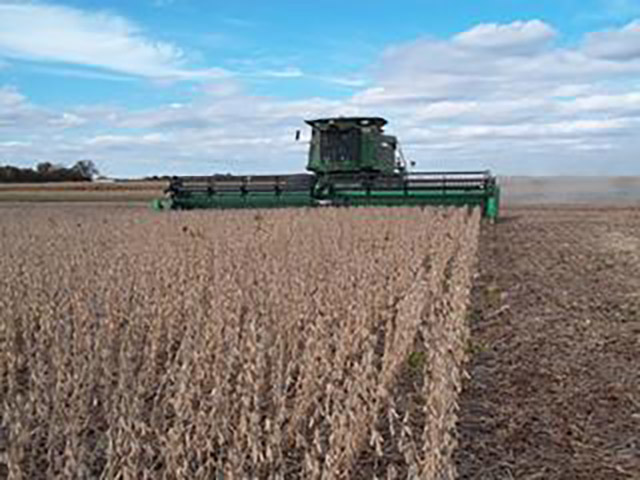 World production of 10 major oilseeds is forecast to climb 4.3 percent in 2014-15 to a record, with the outlook for soybeans raised on increased estimates for the U.S. and Brazil, Oil World said.
Oilseed output may rise to 519.7 million metric tons from 498.2 million tons in 2013-14, the Hamburg-based researcher wrote in an e-mailed report. The outlook was raised by 3.7 million tons from a previous forecast, Oil World said.
Soybean futures have slumped 29 percent in Chicago in the past 12 months, the worst performance on the Bloomberg Commodity Index, amid expectations for record production in the U.S., the biggest grower.
"A phenomenal soybean crop is being collected this year in the U.S.," Oil World wrote. "Improving weather conditions mean that one of the last hurdles separating the bumper U.S. crop from the market is being removed. Large supplies are still setting the tone in price-making."
Farmers across the globe may harvest 310.8 million tons of soybeans in 2014-15 from 285.2 million tons a year earlier, according to Oil World. The outlook was raised from 306.7 million tons last month.
U.S. soybean production is seen rising to 106.5 million tons from 92.1 million tons, while domestic ending stocks of the oilseed are predicted to climb to 12 million tons by the end of August 2015 from 3.4 million tons a year earlier.
"Three consecutive years of large increases in soybean output are turning the market from shortage to surplus," Oil World wrote. "In this scenario prices are likely to fall at least temporarily below production cost, implying that there is still some downward potential from current levels, depending on the producing region."
Sunflower Seed
World rapeseed and canola harvests may rise to 68.8 million tons from 67.3 million tons, while sunflower seed production may decline to 41.4 million tons in 2014-15 from 42.5 million tons, according to Oil World.
Crushing of the 10 major oilseeds is predicted to increase 3.6 percent to 424.9 million tons, with processing of soybeans climbing to 253.3 million tons from 237.8 million tons, Oil World said.
Production of 12 oilseed meals is predicted to climb to 318 million tons from 305.7 million tons, led by a jump in soybean meal output to 199.5 million tons from 187.3 million tons, the report showed.
Oilseed ending stocks are forecast to rise to 102 million tons at the end of 2014-15 from 84.9 million tons a year earlier, boosting the stocks-to-use ratio to 20.3 percent from 17.5 percent, according to Oil World's outlook.