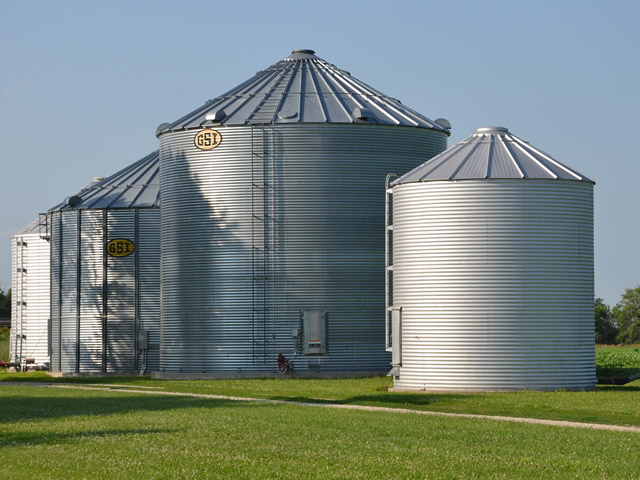 Record crops and transportation bottlenecks are straining the nation's grain storage system in ways it hasn't seen in nearly a decade. That adds up to a lot of grain with nowhere to go and is hitting farmers through the double whammy of low grain prices and wide basis. The problem is particularly acute in the northwestern fringe of the Corn Belt, but not content to quietly accept their fate, producers like Randy Fleishauer have taken action.
"I could see the handwriting on the wall this summer. The elevators were full up and couldn't take any more," says Fleishauer, who grows wheat, milo and field peas on Gunsmoke Farms near Ft. Pierre, S.D. "I had room for 750,000 bushels of wheat, but another 800,000 to 1 million bushels that had to go somewhere." he says.
The solution he settled on: a grain bagging system that has given him a low-cost home for 1 million bushels of grain. "They work great. I had 21 combines running with two baggers." Costs per bushel are in the seven cent range, excluding the bagger, unloader and other long-term investment costs.
"Is grain going to be stored on the ground, yes," says Frayne Olson, ag economist at North Dakota State University. "It will be tight, it's going to be close," he says on whether North Dakota has sufficient storage for crops that are turning out to be bigger than earlier anticipated. This same story different verse is playing throughout the heartland this harvest. On paper, North Dakota storage capacity of 1.3 billion bushels (both on-farm and off-farm) will be nearly equal to expected harvest, but that doesn't mean there won't be localized problems.
Transportation Woes Turn Political
Compounding the problem is that some old crop grain still needs to be moved through marketing channels. In addition, because of quality concerns with barley, spring wheat and durum, farmers are only partially filling bins because they don't want to co-mingle different protein quality grains because of heavy discounts. "It's not like corn and soybeans," Olson says. "There's still a firestorm on rail," he adds, "with everybody blaming everybody else. It's a hot topic, very political." Fleishauer says that the lack of quality track has meant trains can only travel 5 miles per hour in some places from Pierre, S.D. to Rapid City. "Part of the problem is oil and coal." That's affecting farmers in a growing number of states.
The result of record supplies outpacing capacity in many states: sub-$3 corn in Iowa and Illinois, below $1.80 parts of North Dakota. Basis is the widest in nearly a decade in some locales.
North Dakota has definitely been doing its part to increase storage as it's ramped up corn production in recent years faster than any other state. From 2012 to 2013, North Dakota's grain storage capacity increase of 38 million bushels comprised 18% of the total U.S. increase of 221.6 million bushels. In 2006, the state's share of the national storage increase was just 4%.
While transportation woes are a nationwide problem, particularly rail, not all states face storage problems. While eight of 13 states analyzed are deficit storage, factoring in old crop, the problem is less acute in states like Kansas, which actually has a net storage surplus. Overall, the United States has a 1-billion-bushel grain storage surplus this year.
"You can look at that extra and ask 'what's the problem,' but storage isn't always where it's needed," says Darrel Good, University of Illinois ag economist. "Storage capacity doesn't always match up." This year, the huge grain supply and transportation bottlenecks have caused dislocations. "But the industry is pretty adaptable," Good says. "We'll be able to handle it. Supply gets used up pretty fast." Still, there may be times when farmers want to deliver but can't.
While not necessarily good for farmers, the slow harvest thus far helps the storage situation a bit, Good notes. "We use up 55 million bushels of wheat, feed grains and soybeans every day." Better weather and more rapid harvest may be on the way so that crunch time may be on the way, he adds.
"We will test the limits of storage this year," adds Cory Walters, University of Nebraska ag economist. Even the heavy investment in additional storage systems by many farmers in recent years leaves producers wanting this year. But to show how quickly things can change, some ethanol plants temporarily were offering near zero drying costs to producers as an incentive to sell because they needed corn in Nebraska. Such deals don't last long, Walters says.
Harvest bottlenecks and wide basis—severe thought they are—are likely to be short-lived, believes Chad Hart, ag economist at Iowa State University. Over the next two months, he sees the record harvest moving into export channels, ethanol plants and livestock facilities. Once that happens, he sees a narrowing of today's extremely wide basis.
Grain to Look Elsewhere for Home
 While all basis reflects local conditions, Iowa, home to nearly 10% of total U.S. grain storage, will also be impacted by woes in North Dakota, he says. As storage fills up in the northwestern fringe of the Corn Belt, it will seek destinations further south and east that offer narrower basis, he says. Once those areas fill up, basis there will also widen, he adds.
Like the rail system, there is not likely to be a quick fix to the industry's storage challenges, says Fleishauer, the South Dakota producer. "I look for problems next fall, too, even with average crops," he says.