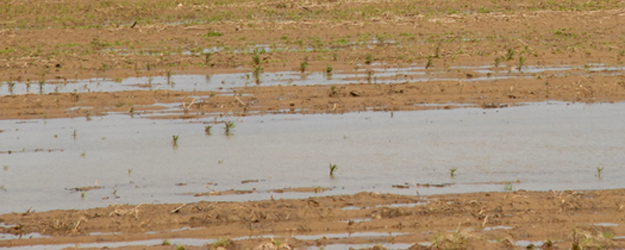 Cold and wet weather keeps corn planting progress at a dramatically slow pace, yet yields can still reach trend line.
As of April 21, USDA estimates 4 percentage points of the U.S. corn crop is in the ground. This compares to 26% planted at this time last year and a five-year average of 16%. Continued cool and wet weather has kept many planters parked.
Colorado, Illinois, Indiana, Iowa, Michigan, Minnesota, Nebraska, North Dakota, Ohio, Pennsylvania, South Dakota and Wisconsin all have virtually no corn planted.
See AgWeb's Corn Planting Progress Map: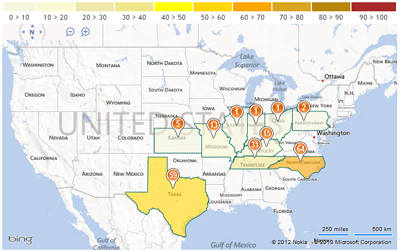 Dustin Johnson, a broker with EHedger and author of the EHedger Report blog, 2013's planting pace is on target with 2008's, which ended in a 153.9 bu./acre national corn yield. "In 2009 we were only at 5% planted on this week and we ended up yielding 164.7 bu./acre," he says.
Johnson says since a lot of this rain was definitely needed to recharge soil moisture, EHedger analysts are still estimating a trendline yield of 157.6 bu/acre.
Paul Georgy, president/CEO of Allendale, Inc., and author of The Allendale Wake-Up Call blog, expects planting delays to persist, at least for the near-term. "We will likely continue to run behind as the 1- to 5-day outlook is for more rain to cover the majority of the Midwest."
His colleague Rich Nelson has been comparing years when corn planting delays of 10% or more. "In three out of four years, corn planted acres increased and yield declined from trend yield," Georgy says. "It is likely the USDA will make some adjustment for yield on the May 10 report."
Are the Skies Clearing?
No doubt farmers will be glued to the weather radar, in hopes of a break for planting. Here's the weather USDA is predicting:

In the West, freeze warnings are in effect across parts of the Northwest, where a series of cold mornings has led to protective measures being used to guard against injury to fruit crops. In contrast, warm, dry weather favors fieldwork and crop development in California and the Desert Southwest.
On the Plains, very cold weather prevails. In fact, freeze warnings are in effect as far south as Texas' northern panhandle. In recent weeks, freezes have adversely affected winter wheat on the southern High Plains, while widespread precipitation has aided wheat farther north. During the last 3 weeks, the portion of the wheat rated very poor to poor has increased from 49 to 60% in Texas, but has decreased from 76 to 53% in South Dakota.
In the Corn Belt, a brief spell of warmth in the Ohio Valley contrasts with unusually cold weather elsewhere. A mixture of rain and snow accompanies the latest cold surge, aggravating lowland flooding. Fieldwork remains at a virtual standstill, with corn planting just 1% complete by April 21 in Illinois and Indiana.
In the South, cool conditions linger, especially along the Atlantic Coast. Fieldwork is running behind schedule in some areas, particularly in the Delta, due to a cool, occasionally wet spring. On April 21, rice planting was just 7% complete in Mississippi, compared to the 5-year average of 48%.

For More Information
See AgWeb's other planting progress maps: