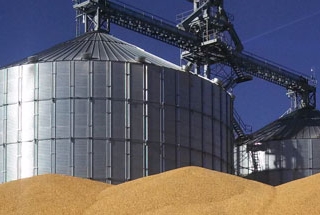 World grain stockpiles at a 15-year high will weigh on wheat and corn prices in 2014-15, dulling any response to potential output setbacks, said Abdolreza Abbassian, senior economist at the UN's Food & Agriculture Organization.
"With huge inventories you can't expect much of a price response for at least another season," Abbassian said by phone from the United Nations agency's headquarters in Rome today. "It definitely takes the shine off the agricultural commodities for some time."
The FAO predicts global grain stocks will jump 8 percent to 624.7 million metric tons by the end of 2014-15. The agency's index of world grain prices stood at 178.4 points in October, down 33 percent from a June 2008 record.
Chicago corn futures have fallen 13 percent in the past 12 months on an outlook for record production in the U.S., while wheat futures dropped 20 percent as bigger crops in Europe and the former Soviet Union add to a global surplus. World food prices climbed sharply in 2007-08 as drought diminished Australia's wheat crop and again in 2010-11 after dryness prompted Russia to ban grain exports.
The global grains stocks-to-use ratio is forecast to climb to 25.1 percent in 2014-15 from 23.5 percent a year earlier, the highest it's been in 12 years, the FAO says. The ratio, which indicates the buffer against production shortfalls, fell to 18.4 percent in 2007-08 and 21.5 percent in 2010-11.
"We've had two years of such big inventory buildup, giving us perhaps an expectation for damped prices for an extended period," Abbassian said. "This year is a sort of reality check. You need a very big event to turn around the supply prospects and really see sustained support for prices."
Price Fluctuations
Volatility in basic food commodities is "more subdued" than it's been in recent years, according to the FAO economist, referring to price fluctuations. The outlook for rising grain production is factored into prices, which have come down "sharply," Abbassian said.
Prices could fall again if demand doesn't increase, and any demand pickup won't herald price recovery due to the amount of grain available, according to Abbassian. The market is easier to read than it's been since from before 2006, with the ethanol industry mature and no longer expanding, he said.
U.S. corn used to make ethanol is expected to be little changed at 5.125 billion bushels in 2014-15 from a year earlier, accounting for 35 percent of domestic production from 37 percent in 2013-14, according to U.S. Department of Agriculture data.
"It's a pretty predictable market from the point of fundamentals, one that we haven't seen for many years," Abbassian said. "There's no emerging demand popping up. We have pretty settled supply and demand factors, the only variable is a classical one and it's the weather."
The focus is now on planting for next year, including possible setbacks in Russia and Ukraine, according to Abbassian. Winter-wheat areas in both countries have been unusually dry and cold the past month, data from World Ag Weather show.
"Next year wheat production could decline, this is to be expected and certainly this will have no immediate effect," Abbassian said. "With the kind of inventories we're building, the world can stand some declines in production next year."