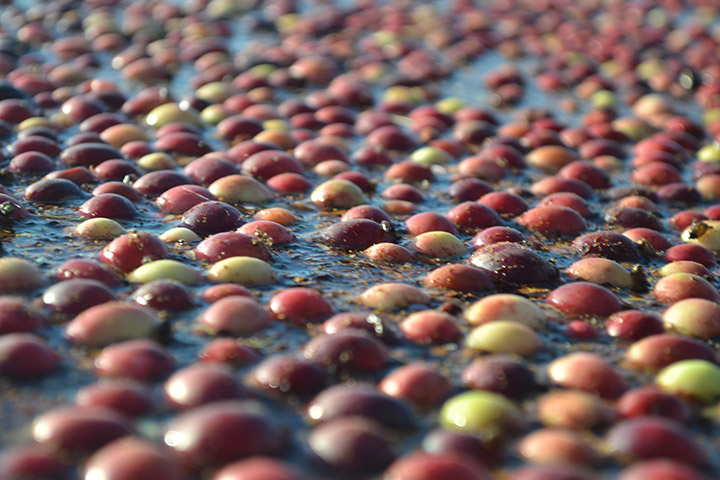 Deep red berries are a signature for Wisconsin growers, who produce more than half of the nation's cranberries each year. Just like many areas across the U.S., Wisconsin farmer Mike Gnewikow had to battle Mother Nature this year with very little rain. That meant extra costs for irrigation, but easier for management.
"A really wet year is actually harder to get rid of the water, but from the plant standpoint, we can control it, so that is nice," he says.
You may notice a lot of green, which is presenting another wave of challenges this year. Gnewikow says they haven't experienced a lot of cool nights this fall to ripen the berries.
"It's going to maybe make our harvest time a lot shorter," says Gnewikow.
Despite the uncooperative weather, he says you're looking at a record breaking crop, beating even last year's bin-buster.
This year was a good production year, last year was very similar, we had a bunch of acres come in from Canada now,"  he says.  "So, combined with new acres, we planted a lot of new hybrids, renovated old beds with new vines, and our supplies have gone up and up," he says.
He says the industry continues to breed better vines, which is also attributing to the impressive yields.
While additional acres and exceptional yields are good for the cranberry industry, it means farmers are having to sacrifice price.
"Getting the product sold we starting to expand into other countries that haven't really had the cranberry exposed to them lately," he says.
Gnewikow says 95 percent of the cranberries will be turned into processed products, like juice or dried fruits for cereal bars, which is another booming market.
So, just how do growers harvest cranberries? It involves a lot of water.
"Overnight we'll flood water into that bed,' Gnewikow says. "We'll get about eight to ten inches of water in there, and then that next day we'll go in with a machine; it'll knock the berries loose, and knock berries off the vine so that they'll float."
The next day, they raise the water another couple feet, then corral the berries and send them to a receiving station. He says cranberries are measured by the barrel instead of a bushel. He says one barrel equates to about 100 pounds in Wisconsin.