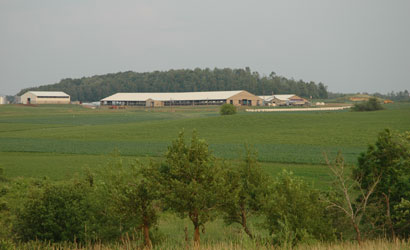 New guide offers ways to lower greenhouse gases
It's well-established science that the dairy cow's rumen is the single largest source of methane and greenhouse gas (GHG) emissions in the fluid milk value chain.
And if the dairy industry is to reach its stated goal of reducing GHG emissions by 25% by 2020, it makes sense the rumen is the first place to look.

Fortunately, what is good for lowering GHG emissions and improving rumen efficiency is also good for
improving milk production and dairy farm profitability.

To that end, The Innovation Center for U.S. Dairy has produced a 68-page guide outlining feeding and dairy management practices that enhance efficiency, improve productivity and milk production and, at the same time, reduce GHG emissions.

The guide's purpose is two-fold, explains Juan Tricarico, director of the Cow of the Future project and editor of the guide:

"This report represents an unprecedented effort to consolidate and synthesize practical information that is supported by existing science and can be immediately used by dairy farmers to add environmental value by reducing enteric emissions and increase on-farm financial value," he says.
 
Don't be put off by the academic sounding title of the publication: "Considerations and Resources on Feed and Animal Management."

It is very user friendly and offers such basic information; it could easily be a foundational text for a beginning dairy science class. But just because it offers basic information, it should not be viewed as simplistic.

Along with 244 points to think about in ration and dairy management, the guide also provides 256 supporting resources that delve deeper into each topic. These public, readily accessible internet links provide depth of understanding to many of questions raised by the guide.

A copy of the guide can be downloaded at www.USDairy.com/cowofthefuture. Printed copies can be
obtained by emailing [email protected].