Remember that your farm's succession plan is not a one-and-done undertaking
While the idea of working on a succession and estate plan for years, even decades, seems daunting, it's much better than the alternative. "A lack of planning will create anxiety and stress you don't need," says Dick Wittman, Idaho farmer and president of Wittman Consulting. "You could even chase off a potential successor."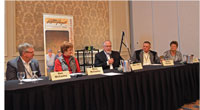 At our Legacy Conference in Kansas City, Mo., farmers (from left) Ken and Mary McCauley of White Cloud, Kan.; Mike John of Huntsville, Mo.; and Buddy and Carolyn Raasch of Liberty, Mo.; shared their first-hand succession planning 
experiences, including how to decide what is fair versus equal for children.
Your farm's succession should start when your potential successors are first entering the workforce. "Ask yourself, 'What is our vision for this farm business beyond the current generation?'" Wittman explains. "How do we set the course for a professionally run business that will attract successors?'"

Succession planning is complex, but doable. That's what attendees at our first two-day Legacy Conference, in December in Kansas City, Mo., learned from Wittman and the Farm Journal Legacy Project Advisory Team. 
The legal side of your succession plan doesn't have to be complicated. "But, you have to do better than, 'I leave everything equally to my children,'" says attorney Polly Dobbs. You must be specific. 

Dobbs, with Starr Austen and Miller, suggests asking these questions when creating your farm succession plan: 
What do you think your heirs will fight about? 
Is co-ownership at the next generation best?
Should your children be in business together?
Can they get along well enough to split the cash rent?
Do you have a child in mind as a management successor?
By knowing the answers to these questions, Dobbs says, your lawyer, accountant and other professional 
advisers can steer you to the right estate planning tools and options. 

One, often overlooked, estate planning option is gifting assets. "We have many ways to make sure the assets stay intact and within the family," says Paul Neiffer, partner at CliftonLarsonAllen and author of The Farm CPA blog. "Gifting is a powerful tool."

The annual tax-free exclusion for gifting in 2015 is $14,000 per donee. "With annual exclusion gifts, it is fairly
easy to gift large amounts of value each year, especially the land entity, with no gift tax consequence and still retain all of the lifetime exemption amount," Neiffer says. 

Despite the complexities, one of the best things about being in a family business is working with people you love, says Carolyn Rodenberg, owner of Alternatives to Conflict. On the other hand, one of the worst things about being in a family business is working with people you love.

A common culprit behind conflict or dismay in a family farm business is a communication breakdown. "If you can improve your communication skills, I can almost guarantee you will have a successful business," Rodenberg says.

Her advice for improving communication and squashing conflict starts with admitting the conflict exists. Then, you must assess whether the conflict is even worth resolving. "We cannot resolve every little bit of conflict that comes along—we would get nothing else done," she says.

If the conflict is worth working out, analyze the source of the conflict. "A lot of times, all you see are the symptoms, not the real problem," Rodenberg explains. "You need to get to the root of the problem." 

Then, you can apply carefully planned strategies that solve or at least improve communication.  
---
Host A Great Family Meeting
Families must have a structured and encouraging venue to conduct the many elements and stages of succession planning. In most cases, that is accomplished through regular family meetings. Johnne Syverson, a family business consultant with Transition Point Business Advisors, provides these guidelines to hold organized, focused family meetings: 
Know in advance what you want to accomplish during the meeting.
Make sure the meeting either focuses on the family business or on the business of being a family—but not both at the same meeting.
Use a facilitator who is not part of the immediate family to keep the conversation moving and on target.
Comfort is a key consideration. Make sure the location is neutral and provides the needed elements (conference table, projector, etc.)
Establish ground rules for operating in meetings that everyone agrees on—then stick to them.
Prepare a written agenda and let others know their roles. Start and end on time.
Use an ice breaker exercise to relax your group and get them laughing. Family meetings are somewhat formal, but they should also have fun elements.
---