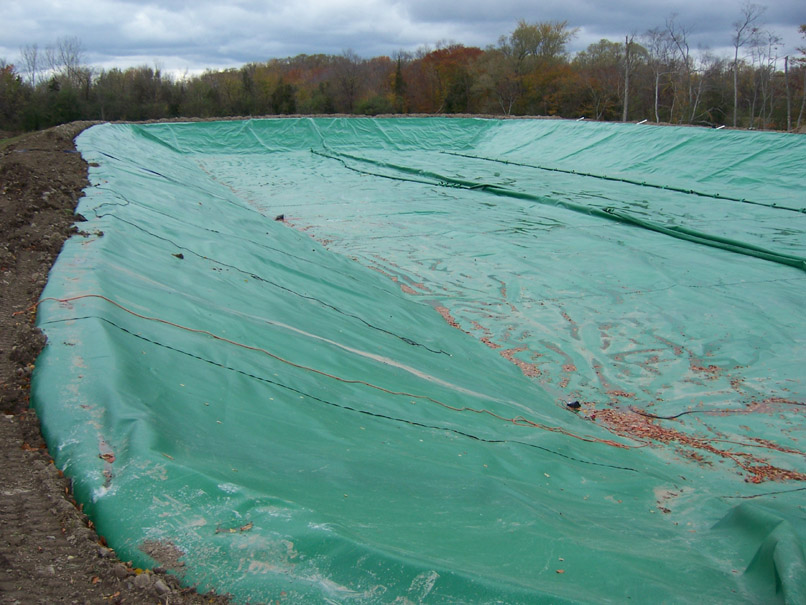 If every year it seems like your farm is up against the wall and has to make risky manure applications or risk an overflowing storage, that's a sure sign of needing more -- or better-managed -- storage.

By Karl Czymmek, PRO-DAIRY specialist, Cornell University
There are many facets to a sound manure management program. Probably one of the most important tools is to have enough storage to handle typical weather and soil condition challenges.
The right amount of storage is different for each farm or region, but if every year it seems like your farm is up against the wall and has to make risky manure applications or risk an overflowing storage, that is a sure sign of needing more storage, or better management of what you do have.
Another common feature for success is that manure management duties are clearly assigned in an operation and the lead person actually has time for and takes responsibility for doing the job properly. This person strives to do a better job every time the crew goes out and also makes sure that custom applicators are doing things correctly as well. The field crew is trained to look for problems, understands how to get the right rate, where and how to deal with no spread zones and to call for help and knows how to implement an emergency spill plan as soon as problems are found. This level of preparation can go a long way to reducing or preventing environmental contamination and related fines, not to mention bad press and lost time due to unplanned clean up and paperwork.
Regardless of storage circumstances and staff training, there are other practices that can be employed. Some farms separate solids and store them elsewhere or reuse for bedding. This reduces solids accumulation in storage and provides incrementally more storage space for liquids. 
Another approach this fall could be to clean out accumulated solids to increase existing storage capacity. This past spring, I heard of several farms that traded storage space: Those with full storage arranged to take manure to a neighbor with extra space with an agreement to haul it back out at a later date.
Farms with storage covers have noted significant reduction in manure volume not only due to avoided rainfall, but drifted snow can be pumped off when it melts too. Storage covers could be used more widely and there have been some cost share opportunities. Many producers have constructed satellite manure storage facilities (often with underground transfer pipes) so that manure is close to large blocks of land for application when conditions are right.
There has also been significant investment in drag hose application technology. This allows for placement of manure below ground in many circumstances, resulting in a much lighter community footprint by reducing odors as well as truck and tanker traffic. Producers tell me that drag hose systems are a MUCH more efficient way to move manure, especially after the crew figures out how to manage hoses and system layout.
Even without satellite storage and drag hose systems, there are less complicated ways to apply manure in a safer manner. Mixing manure with soil will reduce manure runoff, so tillage can be an important measure where that fits with other farm goals. Applying manure to fields with good soil cover can help reduce risk of runoff too. Avoid spreading when weather conditions are calling for rain or snowmelt. Fresh manure has a way of running off and the odors are often what people notice first in well contamination situations.
The period from late February through early April seems to be especially challenging in many, though not all, years and locations. Sensitive fields should be avoided when possible especially if frozen or snow covered and warm weather conditions are forecast. Runoff is very possible when soil conditions are wet, and the risk of compaction is much greater. Keep in mind that adding 10,000 gallons per acre of liquid manure is equivalent to nearly 0.4" of rain, making runoff risk that much greater.
Manure application when tile outlets are flowing can be a problem. Outlets should be monitored and operations stopped immediately if outflow becomes cloudy. All farms should have last resort, emergency spreading locations for tough conditions. These should be selected based on farm experience and talking with a CAFO planner or conservation professional from SWCD or NRCS. Fields that are fairly level, drain internally or do not have nearby ditches or streams are prime candidates.
I strongly encourage every farm to focus more management time on how to improve manure application results and those with a CAFO planner to spend time with that person to develop a stronger manure runoff risk management plan for their farm. If not already in progress, it may be impossible for most farms to get more manure storage constructed for winter 2015, but see what your farm can do to reduce the risk. In recent years, the New York dairy industry has received lots of attention and has historically had strong public support. It is more necessary than ever to maintain this support and improved manure handling is a significant part of that.