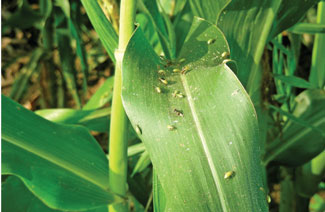 More farmers are in compliance with rootworm practices
Many of today's genetically modified corn hybrids include one or more of the family of Bt proteins that protect against corn rootworm and other lepidopteran pests. But rootworm resistance concerns have cropped up 
in several states, leaving farmers worried the effectiveness is waning.

The good news is farmers are taking the problem seriously and implementing best management practices. The National Corn Growers Association (NCGA) says its compliance program is reaping rewards, with more growers planting corn refuges and using integrated refuge products.

The Compliance Assurance Program  includes on-farm refuge assessments, an online survey and education and awareness efforts. Those efforts show promise, says Mark Kimm, co-chair, Agricultural Biotechnology Stewardship Technical Committee (ABSTC).

"We are pleased to see the number of growers planting integrated refuge products on their entire farm operation has more than tripled this year," he says. "The percent of those who planted exclusively integrated products increased from 18% in 2013 to 47% in 2014. An additional 27% are planting at least one integrated product."

Integrated refuge products include Bt and refuge seed interspersed in a single bag or container, Kimm says. According to ABSTC projections, adoption of integrated products will continue to increase. That increase in compliance will help preserve Bt corn technology durability, he says.

The latest ABSTC survey reveals the majority of farmers plant the required refuge size within the required distance for all of their Bt corn fields. Farmer incidences of not planting any refuge acres is low.

Meanwhile, several attempts at limiting or delaying the spread of rootworm resistance are underway. For example, various agribusinesses have developed their own refuge strategies to ward off resistance. Now, the Environmental Protection Agency (EPA) has set a framework it says will delay corn rootworm resistance.

EPA cites the resistance "red zone" as portions of Iowa, Illinois, Nebraska, western Indiana, southwestern Wisconsin, southern Minnesota and eastern South Dakota. Regardless of geography, your farm could be in the red zone if the following pertains to you:
Continuous corn for multiple years
Heavy use of Bt corn
Regular rootworm infestations
Spotty compliance with current refuge requirements
The EPA framework for delaying further spread of resistance will require Bt corn manufacturers and farmers to take several steps. First, in high-risk areas, EPA will require crop rotation, use of varieties with more than one Bt protein or other integrated pest management (IPM) practices. EPA says 70% of corn acres in the red zone and 50% of all other acres should employ IPM efforts.

Manufacturers will be required to develop and implement strategies to better detect and address new areas of resistance as they emerge. Also, EPA says improved scientific tests and sampling methods are needed.

EPA has opened a comment period on this framework. Comments can be submitted until March 16 to EPA 
docket EPA-HQ-OP-2014-0805 at www.regulations.gov.