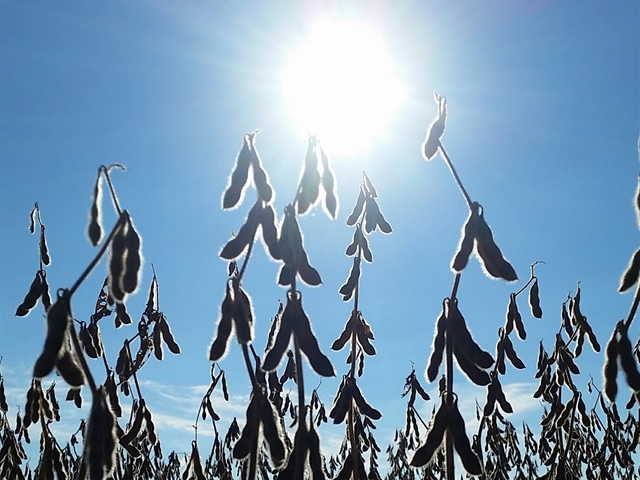 Soybean prices stayed aloft Wednesday, bolstered by the second round of U.S. soybean sales to China this week. But corn and wheat prices fell slightly.
January soybeans closed up 1 ¼ cents at $10.49. December corn edged down ½ cent at $3.50 ½, while CBOT December wheat slid 3 1/5 cents to $3.86 1/5.
On Wednesday, USDA announced export sales of 330,000 MT of soybeans to China. The sale included 66,000 MT for 2016/17  and 264,000 MT for 2017/2018. It followed Monday's sale of 426,000 MT of soybeans to China.
"I think what is going on today is that another round of soybean sales to China continues to be an underlying supportive factor," says Don Roose, president of U.S. Commodities in West Des Moines, Iowa.
Meanwhile, dry weather in Argentina is causing concern because of potential crop losses, he says.
In China, soybeans were up 17 cents overnight, which also lend support, notes Kevin McNew of  Grain Hedge.
Soybean prices have added pressure to corn and wheat. Corn is "trying to follow wheat on Monday's huge short-covering," Roose says. Weather reports also are a factor: The National Weather Service says drier- and warmer-than-expected weather is ahead for the next 90 days, which affected grain prices, he explains.
So what should farmers do?
"Farmers should be taking advantage of strong soybean prices by locking in futures at the very least, if not cash prices, for both the old and a portion of the new crop," advises Angie Setzer, vice president of grain, Citizens Elevator in Charlotte, Mich.
Meanwhile, producers shouldn't be afraid to start looking "at a very small start on December '17 corn futures at $3.90 and above, while putting incremental target orders in, to capture any additional rallies in price," Setzer says.